02-Dec-2015 (HCS) - With Christmas just weeks away, students across Hoover City Schools anticipate their big break. Along the way, they're helping people around Hoover usher in the holiday season.
Crossroads students traveled to Central Office in early December to put up the district's Christmas tree. Adorned with lights and other elements, the tree features hand-crafted ornaments designed to represent the 50+languages spoken throughout Hoover City Schools. Decorating the tree as such has become a tradition for students in the Crossroads program.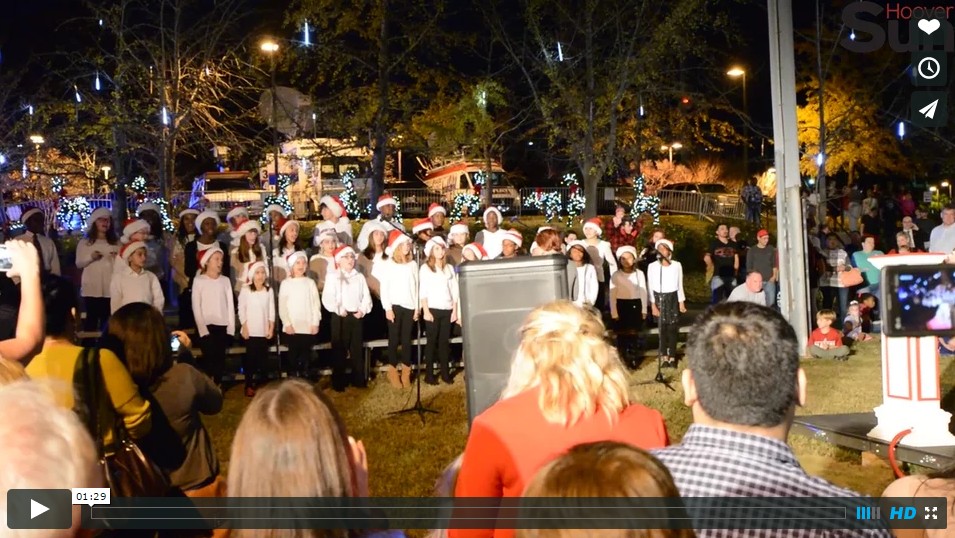 Earlier in the week, Hoover City Schools was well-represented at Hoover City Hall for the Hoover's annual Treelighting Ceremony. The annual event serves as the official kickoff to the holiday season for the city and this year, featured Kennedi Robinson of Green Valley Elementary (Principal, Mr. Jeff Singer) as the official treelighter; the 4th and 5th grade choir students from Riverchase Elementary (under the direction of Mrs. Natalie Evans); and the Spain Park High School Marching Band (under the direction of Mr. Chris Neugent).
The Treelighting Ceremony draws hundreds of spectators from across Hoover and surrounding areas. It is typically televised live on WBMA ABC 33/40 News at 5 p.m.
Hoover City Schools will be out December 21, 2015 through January 1, 2016 for Winter Break. Students will return for the first day of the second semester on Monday, January 4, 2016. To see the full 2015-2016 Hoover City Schools School Year Calendar, click here.