BASICS:
Game Kickoff: 7 p.m. Wednesday, December 2
Walk of Champions: 5:15 p.m. (front of Bryant-Denny Stadium)
Tickets: $12 in advance/$15 at the gate
Where to Watch: Raycom Sports Network
Media Coverage:
Sam Chandler
Hoover Sun
It all comes down to this.
No more waiting. No more elimination games. No more win or go home.
This time, on the state's biggest stage, it's simply winner take all.
On Wednesday night in Tuscaloosa, Spain Park (12-1) will put its championship aspirations on the line against a McGill-Toolen (12-1) squad whose path to the Class 7A State Championship Game closely resembles its own.
Although the Jags and Yellow Jackets have never clashed on the gridiron, it's safe to say few would have predicted the inaugural matchup would come this season under the bright lights of Bryant-Denny Stadium.
It was just one year ago that both teams missed the playoffs altogether, compiling a combined 10-10 record.
In coach Shawn Raney's second year guiding the program, the Jags went 6-4 overall and 3-4 in region play. Likewise, 2014 saw the Yellow Jackets, under the direction of first year coach Caleb Ross, go 4-6 overall with a 3-5 record in the region.
The 2015 season, however, has been a much different story for both sides.
With the state final yet to be played, Spain Park has already doubled its win total from last season, while McGill-Toolen has tallied thrice the number of victories from 2014. And, on the way to achieving such unprecedented improvements, each team rolled through region play undefeated, accumulating 7-0 (Spain Park) and 8-0 (McGill-Toolen) records.
See more from Hoover Sun
Chris Breece
WIAT CBS 42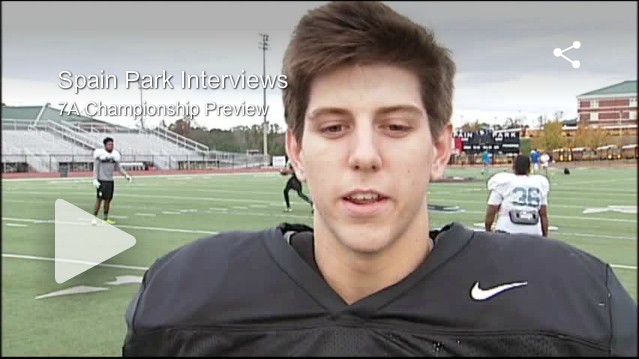 HOOVER (WIAT)- Spain Park can make school history with the program's first-ever state championship Wednesday night when the Jaguars meet McGill-Toolen in the 7A State Championship at Bryant-Denny Stadium.
The Jaguars have always been known as "little brother" to neighbor Hoover. On October 1, Spain Park defeated Hoover 17-0, the program's first-ever win over the Bucs and beat them again in the semifinals 7-6 two weeks ago.
Kickoff in the championship game on Wednesday is set for 7:00 p.m.
Watch safety Bryan Sanderson, center Grey Best and coach Shawn Raney preview the game above.
Gary Estwick
AL.com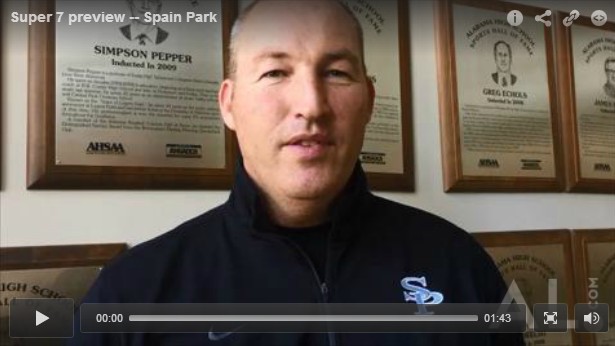 The Spain Park Jaguars spent last week trying to figure out what it will take to leave the University of Alabama's Bryant-Denny Stadium on Wednesday night with the school's first-ever Class 7A football state championship.
They enjoyed that luxury, along with Mobile's McGill-Toolen, while the rest of the state focused last week on reaching championship games in various prep classifications. The two schools set to play in the 7A title game focused on practicing and waiting – dreaming – about this week.
Remembering the effort to get here, wondering what it will take to win one more game.
No one aspect of high school football places a program in a position to win a state title. Rather it's a compilation of efforts, starting during winter workouts and ending as time expires in regulation – or overtime – in the title game.
RELATED: WATCH AS 3 SPAIN PARK PLAYERS DISCUSS RUN TO 7A TITLE GAME
Determination. Family atmosphere. Trusting the guys lined up next to you. Big plays when you need them the most. Sacrificing individual goals for team efforts. Luck. Preparation. Lots of preparation. A vision. Leaders. The ability to make adjustments, whether after a win or loss or in-game. A supportive community, from parents and football team alumni to school administrators. Either a history of winning or the belief that history begins with each tackle or pass, catch or block.
Here's what the Jaguars had to say about their stately journey:
See more from AL.com