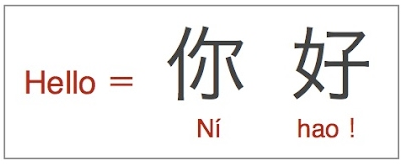 20-May-2015 (HCS) - Mandarin Chinese will join Spanish, French and Latin as a foreign language opportunity for high school students in Hoover beginning this August.
The elective will be taught at both Hoover High School and Spain Park High School by Mr. Steven Frost, a renowned educator who comes to Hoover from the Loveless Academic Magnet Program High School in Montgomery. Students will soon be able to revise schedules and choose "Chinese 1" as an elective. The course will establish a solid conceptual framework for understanding the principles of both the spoken and written Chinese language.
"What excites me most about starting a Mandarin program in Hoover is the opportunity to serve in the community I call home. The potential for growth in a school community the size of Hoover is a strong motivating force," Frost said.
Frost lived and worked in China for a number of years and used his experience to engage in extensive language learning opportunities. He has participated in the prestigious Confucius Classroom here in the States. Students will be introduced to the etymology of Mandarin Chinese characters and the historic development of Chinese script.
"With Chinese the question of difficulty is more nuanced than with an alphabet based language. Speaking is not particularly hard as long as there is an environment where you can practice. Learning Chinese characters in order to read requires a serious time commitment, but there is evidence suggesting doing so can pay significant cognitive dividends," Frost said. "Nothing of lasting value in life comes without sacrifice and Chinese is no exception. My job as a teacher is to make the language accessible for students by teaching the logic behind it. With Chinese there is no conjugation of verbs. This little known fact should win it many new fans."
Mary George Jester, principal of the Loveless Academic Magnet Program High School, lamented their loss of Mr. Frost and said he will be missed greatly by his students.
Assistant Superintendent for Curriculum and Instruction Dr. Ron Dodson recognizes the value of Mandarin - a widely spoken language in the global business community. He says bringing Frost on board is a huge win for Hoover City Schools, which will be joining a small number of public schools across the state that are able to offer a Chinese language option.
"We've been searching for the right time and the right person to create and grow a Mandarin program here in Hoover, and it's exciting to find someone who has already done this successfully and can bring that knowledge and experience to our school district," Dodson said.
Dodson points out that China has been making substantial investments in English language learning as almost all students are required to study English. This could give China's students a competitive global advantage, positioning them to emerge as business leaders poised to capitalize on the global trade gap.
"Due to the large population, there are almost as many English language learners in China as there are Americans in the entire United States," Dodson said. "It's the scarcity of Mandarin in America that gives it special prominence right now. Chinese is the third most spoken language in the U.S. today, but less than 1% of Americans can read and speak in the language."
Students in grades 9-12 at Hoover High School and Spain Park High School will be eligible for this course in the 2015-2016 school year. Space will be limited, so if you want to take advantage of this first-year offering (with waived fees for schedule change requests), visit this link to learn more.