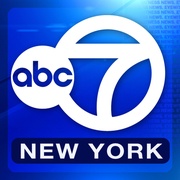 01-November-2014 (HCS) – Twenty-eight year old Tyler Morton can proudly say "he made it." The 2005 alumnus of Hoover City Schools (Hoover High School) recently added to his impressive resume by landing a broadcasting position in New York City – at ABC's flagship station, WABC (ABC 7 Eyewitness News). In October, he began producing a midday newscast for the storied station, which is based in Manhattan. We caught up with Tyler to hear more about his rise to television's top market.
Q: How did your interest in broadcasting begin?
I credit my mother with suggesting I sign up for a broadcasting class in high school. I was attached to the TV when I grew up and my mom thought it would be something that would perk my interest. She was obviously right.
Q: Tell us about your involvement in the broadcasting program at HHS and how it laid some of the foundation for your career.
I took my first broadcasting class freshman year of high school and then took classes sophomore, junior and senior year. My senior year I decided to take on took two classes, Broadcast Journalism and Advanced Broadcasting. Senior year was kind of crazy because I spent many late nights editing projects and also made time for my duties as Drum Major for the Hoover High School Band. It paid off in the end. Mr. (Jeff) Lloyd (HHS broadcasting director) nominated me for student of the month and I couldn't believe I was selected. The broadcasting program and Mr. Lloyd helped shape my career and it's something I'm still thankful for to this day.
Q: Where did you go to college and what was your major(s)?
After High School, Mr. Lloyd helped me get an internship at WVUA-TV in Tuscaloosa. I actually started at the station a month after graduating high school. So, I was interning at a commercial TV station before I even started at the University of Alabama. Six months in, WVUA put me on payroll and I worked there all five years of college as I achieved my goal of double majoring in Broadcast News and Political Science. Most students didn't start internships until their Junior or Senior year of college. I knew what I wanted to do and I chose to start early. Doing that has helped my career progress very quickly. When most people first meet me they think I'm young. But, after talking to me, people realize the experience I have under my belt.
Q: Tell us about your career leading up to NYC.
I produced my first TV newscast freshman year of college. I was only 19. Towards the end of my time at WVUA I was a Producer/Reporter. I ultimately chose the producer route. When I graduated college in 2010, WVUA offered me a full-time position. I also got an offer in Columbus, GA. I ended up choosing WTVM in Columbus because its parent company has 40 stations and I had a goal of getting to one of getting to a larger market. I was only in Columbus a year before getting a huge promotion at WBTV in Charlotte which is market 25. I was on the morning show for two years our a newscast I produced earned an Emmy Award in the "Morning Newscast" category. After my contract was up, WBTV offered me a promotion but WTVD in Raleigh/Durham came after me. It's one of eight stations owned by ABC/Disney which is in my opinion, the best company to work for in this industry. I chose WTVD because I saw more opportunity. It was a strategic move because I wanted a producer position in a top 10 market. I was only at WTVD 10 months when WABC in NYC flew me up for an interview and then offered me the a news producer position. Now I'm at the number one station, in the number one TV market. It's surreal.
Q: Tell us what about your current role.
I'm currently producing the 12:30p-1:00p newscast and I started on it by myself October 6th.
Q: What were your thoughts on learning you would be headed to the nation's top market?
I still don't think it's hit me that I'm here. I think a lot about the people who helped me get to this point in my life and career. I tell everyone if you set your mind to something, you can get there. It may take some time, but the reward is worth it.
Q: What drives your passion for producing?
Creativity, the adrenaline from dealing with breaking news and the challenge to come up with new ideas. I can't slack on any show I do, it's just not in my blood.
Q: What have you found to be different about producing news in NYC as opposed to smaller markets?
The pace and content. Stories are constantly changing. I build my show around the idea that breaking news will most likely be added. There is always something happening. It's also not out of the ordinary for network to use stories we cover.
Q: What advice do you have for those still climbing the TV news ladder?
Don't give up if you love what your doing. Yes, the beginning can be hard but once it clicks you can accomplish a lot more than you think. Start early, show management you are hungry to put on great television and set goals for yourself. I started as an editor and now I'm producing for the #1 market at the age of 28. If you've got the drive, you can make it happen.
Q: Outside interests? Hobbies?
Traveling is big for me. Sometimes you've got to get a break from it all and traveling is my outlet. College football is sort of an obsession. I currently have two TVs setup in my apartment for this season #rolltide. I plan to join a flag football league and a kickball league in the Spring. I'm also in the gym four times a week.

Jason Gaston/HCS