31-July-14 (HHS) – Nationally-known teacher and motivational speaker Mr. Brian Mendler made a stop at Hoover High School today, addressing faculty and staff members on their first day back at school.
Mendler addressed the faculty and staff in three different sessions throughout Thursday. His topic was "Motivating and Managing Hard to Reach, Uninterested and Disruptive Students."
Hoover High School Principal Mr. Don Hulin has heard Mendler speak on multiple occasions.
"After attending multiple seminars with Brian over the past two years, I believed his message of motivating and managing hard to reach, uninterested and disruptive students was critical for my faculty to hear. As educators, we need to have the best tools in place to deal with the ever evolving changes with today's students," Hulin said. "Societal issues spill in to our schools daily. We have to be prepared to deal with those issues in order to give kids the best opportunity to succeed at Hoover High School."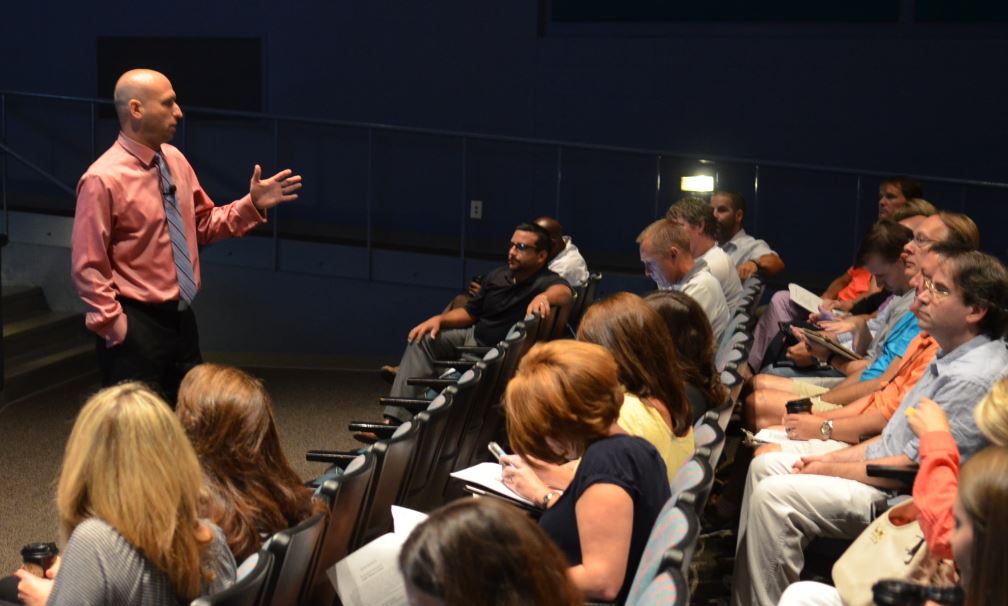 Mendler addressed the HHS faculty in multiple sessions; his direct approach easily held attention spans.

"His '....in your face, real life' presentation was tremendous. The response from our faculty was awesome. Many commented that it was the best professional development they had attended in years. I really believe Brian made us a better school by spending a day with us. Our teachers are still talking about it," Hulin said.

Brian Mendler is a certified elementary and special education teacher with extensive experience working with challenging students in general ed, self-contained, and inclusion settings. He provides staff development training for K-12 educators and youth service workers throughout North America and Europe with the focus on how to be successful with even the most difficult students.
Mr. Mendler has recently authored a book titled, The Taming of the Crew. This book provides easy to use strategies for preventing and responding to difficult, disruptive, defiant, and unmotivated behavior. He has also co-authored three books titled, Strategies for Successful Classroom Management, Power Struggles, and Discipline with Dignity 3rd Edition: New Challenges, New Solutions. The books provide practical, in-depth ideas for working with unmotivated and disruptive students.
Brian continues to volunteer with the Big Brothers/Big Sisters and Special Olympics programs. He currently lives in Rochester, N.Y. Please follow him on twitter @brianmendler