14-July-2014 (HCS) – Educators from around the state converged on Hoover July 14 for Hoover City Schools' Google Leadership Symposium – an opportunity for teachers, curriculum specialists and technology leaders to further learn ways in which Google platforms can help students achieve.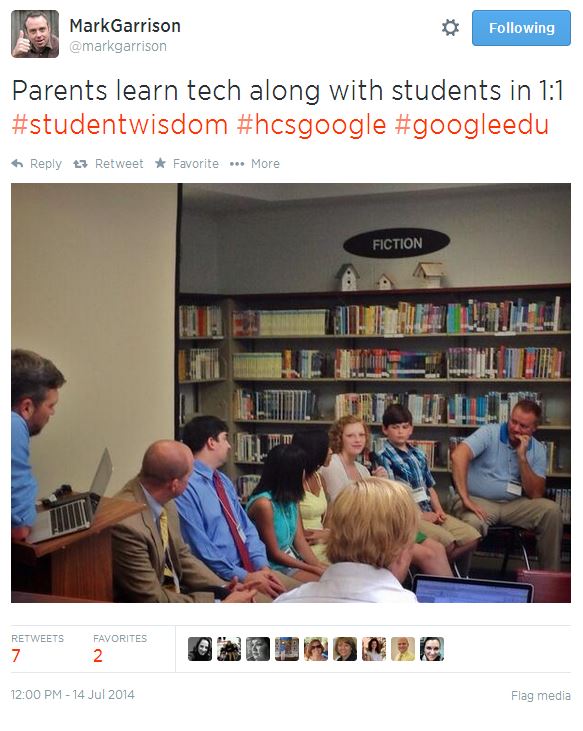 The day-long session, held at Hoover's Student Services Division, showcased Hoover's 1:1 initiative in grades 3-12 (the Engaged Learning Initiative or E.L.I.); featured student and educator panels and was highlighted by keynote Mark Garrison, a Google-certified teacher who serves as Chief Information Officer for the White Bear Lake Area Schools in Minnesota. Those unable to attend in person were able to do online and via social media, using the hashtags #hcsgoogle and #hcseli on Twitter.

"I always enjoy meeting educators who are engaging in the important work of technology integration. In addition to some excellent new Google integration ideas, I picked up some innovative professional development models," Garrison said. "Google Apps are an authentic free suite of tools that level the playing field and give students the same powerful tools that adults us to create quality creative work."
Hoover City Schools' Chief Technology Officer, Mr. Bryan Phillips, CETL, spearheaded the event which largely centered on Google Apps for Education (G.A.F.E.) and other Google tools which can assist student learning/teacher instruction. HCS began piloting the use of Chromebooks and GAFE two years ago when it launched the E.L.I.
"The symposium was a great way to bring great minds together as one way of enhancing our shared mission of preparing and inspiring students to be lifelong learners," Phillips said. "The student panel was interesting; we learned that while most students embrace technology, some simply prefer pencil and paper."
According to Phillips, Google continues to enhance its excellent portfolio of G.A.F.E. offerings – so it only makes sense to extend those offerings to Hoover classrooms. HCS continues to use Apple iPads in classroom sets and for students in grades 10-12.
"Our teachers are very excited about the new tools available for them," Phillips said.
Participants left feedback following the Symposium, most of it positive and a lot of it directed at the information gleaned from collaborative discussions.
"I like the opportunity to talk and share with others about what they are doing and how they are doing things," Susan Poling, Technology Coordinator for Shelby County Schools, said.
"I found the keynote interesting. I thought he presented some good ideas. I enjoyed the panel just because the format was fun," Donna Williamson, Technology Director with Mountain Brook Schools, said.
See more about Google Apps for Education (GAFE).