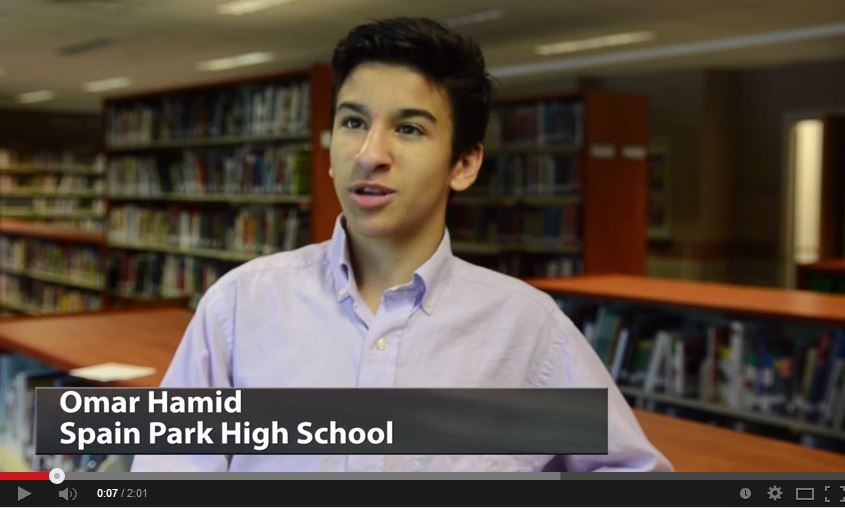 24-June-2014 (SPHS) - As the 2014 Fifa World Cup rages on in Brazil this summer, a Spain Park High School senior watches with more amazement and perspective than most. At the age of 17, he has already travelled the world – playing international soccer at various levels.
"[Soccer] keeps exploding and people are seeing greater interest in it," Omar Hamid said. "It's the most competitive sport in the world."
Omar's father passed down a passion for soccer, or "football" as it's known elsewhere around the globe.
"One of the first things I remember is me and him playing soccer. Those are some of the first memories I have. I really want to play it a lot – just to carry on the legacy," Omar said.
His father passed away when Omar was ten. Since then, Omar's love for soccer has grown to the point where he's able to showcase his skills on the world stage. After a stint at the David Beckham International Academy, Omar was scouted by professional youth leagues across Europe. The center-midfielder has since played for several of them.
"[I've been to] Lebanon, Germany, Dubai, Spain, England and Wales – and the United States. You definitely get more exposure when you play club as opposed to high school [teams]," Omar said.
That's not to say Omar wouldn't gladly join the Spain Park High School soccer team if he could. It's not time, lack of interest or skill level that prevents him from joining; Alabama sporting regulations prohibit those playing "club soccer" from being on a school team, according to Omar. He says he is great friends with the guys on the SPHS soccer team - and often hangs out with them at practice, sharing what he's learned overseas. As he prepares for his last year of high school, the huge Cristiano Ronaldo fan (Left Forward, Portugal) looks to expand his international horizons by securing a professional youth contract with a team in Europe - or a Division I offer here in the States.
"Every day I try to wake up early and practice. I pick up games whenever I can, I try to go so I can improve," Omar said. "Seeing other cultures is super cool. Having been given this opportunity and the talent to go and play and see other things….is just amazing."
-Jason Gaston/HCS