02-03-2014 (HCS) - Housing more than 4,000 students, staff and community members overnight is no small feat; our staff did it with purpose and professionalism the evening of Tuesday, January 28, 2014 when so many were stranded unexpectedly on our campuses due to winter weather.
Please take a moment to read some of the feedback which poured in following the event:
"Much appreciation to you, the faculty & staff of SMS and all you do serving our kids & community, especially over the past week. In particular, thanks for working with my daughter - it made a huge difference. I had to leave my car and walk seven miles home. I am so grateful that I didn't have to walk on to Simmons from there. I'm delighted that my son didn't have to spend the night at school, but equally delighted that if he had had to, he would have been well taken care of.
People are so quick to tell us when we do something wrong; I wanted to let you know how awed I am at how right Simmons does things under your watchful eye. You and I were at Birmingham-Southern together. It tickles me that someone I've known/known of for so long is looking after my children. A humble thank you is all I have to offer in return."
Simmons Parent
"I used to be a teacher at Hoover High School. I am glad that when we met panicked parents along the road as we were walking that I could assure them their children would be warm, and safe and well-cared for at the schools during the snow storm. I just want you all to know I am proud of the job you did during the situation and I'm proud to be a Hoover alumni. Thank you to everyone who did a great job!"
Former HCS teacher, current community member
"Thank you for all you guys did to support us during this trying situation. I'm sure you have received a ton of criticism as we also did at the local schools. I just want to say I've never been more proud of our Hoover employees and the selfless acts that those angry parents will choose to never see. We pulled together like the big family we are! I know you have worked tirelessly since Tuesday. I want to say thank you and we appreciate you. In the midst of all the criticizing know that your Hoover employees appreciate all you do."
Proud Hoover Employee, Gwin Elementary
"Thank you. I know this has been a very trying and exhausting few days for the Central Office. I was so glad to have SPHS as a refuge for for me and my child. Everyone was wonderful. I have a whole new appreciation for cafeteria food. Thank you again for helping me find my way to Spain Park. I hope you have a restful, lovely evening."
HCS Community member
"I don't have words to express how amazed I am by all of you! I have talked to Andy Craig and Melody Greene numerous times over the past few days. They have been checking on you through me. I wanted to pass along their messages of appreciation for all you have done. To say you have gone above and beyond it an understatement! A few of the School Board Members have also been checking up on us to thank you for your amazing dedication, too. Over the next few days I will compile all of the email messages I have received so you can read all of their kind words too!
HCS School Administrator
"Outstanding work by all Hoover Employees an Staff in trying conditions."
HCS Parent
"I am proud and honored to be a part of the BGIS staff and faculty. The recent "snowstorm mandatory sleepover" proved what a true family of faith we are at BGIS under [our school administrators]! Two amazing administrators! Making the best of a situation has a new meaning for all if us in Hoover!"
HCS Teacher
There were several national media mentions of Hoover City Schools and its teachers, including an interview of Greystone Elementary School 2nd Grade teacher Carol McLaughlin on FOX News by Greta Van Susteren: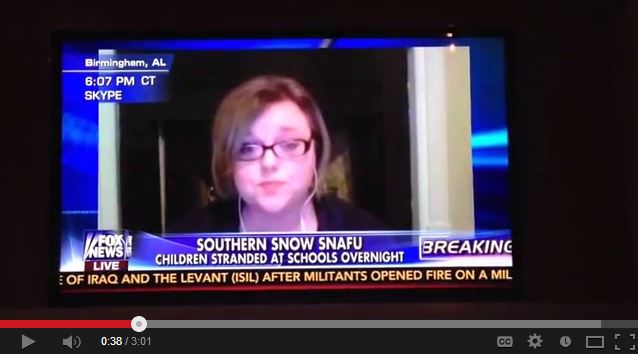 Trace Crossings Elementary School put together this video highlighting the snow event and sleeper on its campus: