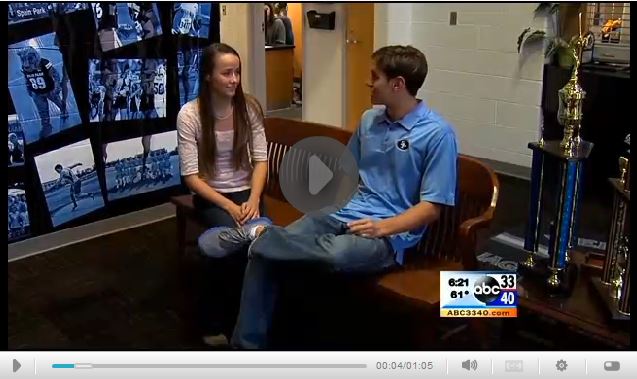 4-Nov-13 (SPHS/HCS) - In what may be a first for a state, a high school and/or a school system, the two 2013 Wendy's High School Hesiman winners for the state of Alabama are from the same school: Spain Park High School. Seniors Madeline Held, a distance runner, and Will Freeman, a swimmer, both were announced this week as honorees for the prestigious national program - which selects students on academics, athletics and community service.
"It's just such an honor to be recognized for all the athletic and academic achievements that we've all had, so – it's really nice," Held told Alabama's ABC 33/40.
"It's pretty honorable that two people from every state are at this level right now so it's really something else," Freeman told ABC 33/40. "I never thought in a million years that I would get this. It's really cool."
To achieve award eligibility for the 2013 Wendy's High School Heisman Program, students must be seniors during the 2013/2014 academic years, graduating with the class of 2014. Applicants must have a cumulative high school grade point average (GPA) of a B (3.0) or better; participate in an eligible sport; and be a leader in the school/community, serving as a model for underclassmen.
Freeman is currently qualified for the fastest meet in the country, the 2014 Phillips 66 Summer National Championships, where USA Swimming will be selecting teams for World Championships, Pan Pacific Championships, World University Games and the Pan American Championships. He plans to swim next year at the University of Alabama. Held has been accepted at both the University of Alabama and Auburn University, although she hasn't ruled out other schools just yet.
These students will go on to compete against winners from other regions across the country for a chance to be named one of 12 National Finalists in Wendy's annual quest to find the nation's top scholar-athletes. These 12 outstanding students will go on to compete for the National Winner title in New York City on December 13. National Finalists will be featured during a televised ceremony on ESPN® networks and will receive gold medals and $2,000 awards for their high schools. One male and one female National Winner will each receive a crystal Wendy's High School Heisman trophy, a $500 Wendy's gift card, and a donation from Wendy's in the amount of $10,000 to their respective high school. Additionally, the winners will be recognized during the collegiate Heisman Trophy announcement on December 14.
For more information about the High School Heisman program and to view all the state winners and finalists, visit www.WendysHeisman.com
About the Wendy's High School Heisman Program
Created in 1994 by Wendy's and the Heisman Memorial Trust, the Wendy's High School Heisman Award recognizes outstanding high-school seniors nationwide who excel in athletics, academics and in the community. Students can nominate themselves for the award online, in addition to being recommended by principals, teachers, guidance counselors and coaches. The most exceptional students are then selected to advance during extensive judging processes conducted at both state and national levels.
About The Wendy's Company
The Wendy's Company is the world's third largest quick-service hamburger company. The Wendy's system includes more than 6,500 franchise and Company restaurants in the United States and 27 countries and U.S. territories worldwide. For more information, visit www.aboutwendys.com or www.wendys.com