10-Dec-13 (SPHS) - Spain Park High School social studies teacher/instructional leader Mrs. Cheryl Morrow has been named Alabama's "Outstanding Social Studies Teacher of the Year" by the Social Studies Council of Alabama (SSCA).
Morrow becomes one of the first educators in Alabama to win two SSCA awards in the same year. In spring of this year, SSCA awarded Morrow the "Excellence in Teaching Social Studies Award" for her lesson plans related to social studies. The first teacher to win the same back-to-back accolades is also a Hoover City Schools teacher. R.F. Bumpus Middle School educator Mr. Keith Minisman captured both social studies awards in 2012 while employed in a neighboring system.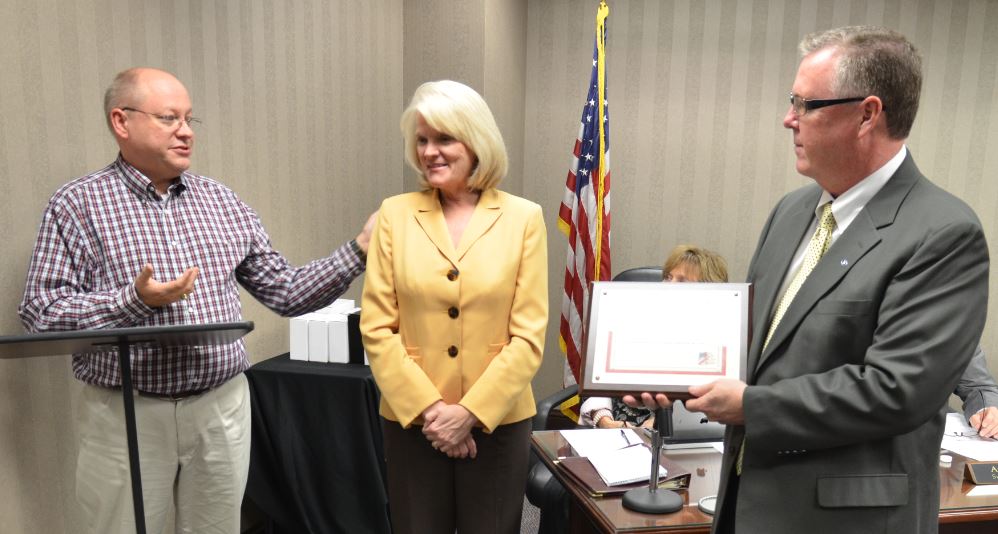 "Students benefit greatly from experiencing robust, vibrant instruction in the social studies curriculum," Morrow said. "An education built on a foundation rich in history, government, economics, psychology, sociology, and geography is one that develops a skill set needed for future decisions that will invariably affect our nation and our world. Our ability to read, think, analyze, and discern lies in our understanding of both historical and future events. Social studies is more than an equation that is exacting; it is a understanding of people and places that is necessarily and beautifully complex."
Morrow was recognized at SSCA's annual conference at Samford University on October 14 and by the Hoover City Board of Education at its December meeting.
The Social Studies Council of Alabama is the state affiliate of the National Council for the Social Studies. The Alabama Council for the Social Studies was formed in the 1960s to answer the growing need for organized curricular cooperation across the many disciplines commonly recognized as the "Social Studies." For more information, visit http://alsocialstudiesonline.org/
-Jason Gaston/HCS