12-Nov-13 (SPHS) – Spain Park High School parents Steve and Debbie Schoeneman have grown accustomed to it: breaking news to their children that they've scored a "36" on the ACT exam. Their latest such episode came this morning, when the couple learned their son Matthew had scored a 36 on the ACT exam, the highest possible score.
"I was just really excited and in disbelief," Matthew Schoeneman said. "My mom woke me up this morning [to share the news] and for a while, I wasn't sure whether I was dreaming."
Seventeen-year-old Matthew (Matt) is just the latest in a string of successes in the Schoeneman family. His twin sister, Stefanie, also scored a 36 on the ACT this school year.
"I was incredibly surprised. My scores had been going up each time I took the test, so I knew I had a good shot at a 36 with just a little more effort," Stefanie said.
Two 36s in the same family proves quite remarkable when you consider ACT's national statistics. Nationally, less than one-tenth of 1% of students who take the ACT earn the top score*. Among test takers in the high school graduating class of 2013, only 1,162 of more than 1.8 million students earned a composite score of 36, according to ACT records.
This story becomes even more remarkable when you consider Matt and Stefanie's older sister, Devon, made the top score just last year.
"I took the ACT three times, first in seventh grade, when I got a 27. Then again sophomore and junior years of high school. In my sophomore year I earned a 35. Then, in February of 2011 I finally got the 36," Devon said.
Devon graduated from Spain Park High School in 2012 and is now at Northeastern University in Boston.
The ACT® college readiness assessment is a curriculum- and standards-based educational and career planning tool that assesses students' academic readiness for college. The ACT consists of four timed, multiple-choice tests: English, Mathematics, Reading and Science. Each test is scored on a scale of 1-36 and a student's composite score is the average of the four test scores.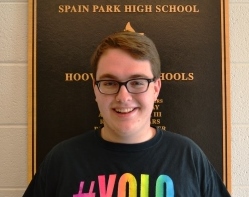 The Schoenemans moved the family to Hoover eight years ago from Illinois. Two other children make up the family: Michael and Erin – who've had their own impressive academic triumphs: Michael (29 on ACT, magna Cum Laude on National Latin Exam); Erin (31 on ACT, AP Scholar of Distinction).
"Our strategy for success: reading, reading and more reading! We tried to instill a love of reading from the earliest possible age," Steve Schoeneman said.
Steve and Debbie both took their children to the library often. Reading in the home was highly encouraged. Debbie still volunteers in a reading advocacy program offered through Birmingham City Schools.
"Our children have always been encouraged to strive for success on their own; especially in middle school and high school they are responsible for their own work and completing their assignments (or not!)," Debbie said. "It is also unacceptable in our home to claim to be 'bad' at any subject – with the right teacher you can learn anything unless you have a learning disability. Our children are fortunate to be pretty smart and they are expected to try to do something with the gifts God has given them."
Reading, high expectations and parental involvement reveal many ACT successes in the Schoeneman family – along with quality instruction.
"We have been a part of Hoover City Schools for the past eight years. Obviously, we have been in a place that can and did develop and nurture our children's talents and take them where they were capable of being taken," Debbie Schoeneman said. "That is a testament to the teachers and the administrators that work with our children. As [SPHS Principal] Dr. Ken Jarnagin likes to say, 'it takes the three stakeholders to be successful: students, parents and school teachers and administrators.' We couldn't agree more!"
*ACT statistics
-Jason Gaston/HCS