18-Oct-13 (HHS) – A record 43 Hoover High School juniors were welcomed into the school's International Baccalaureate (IB) program this morning as part of the school's annual IB pin presentation ceremony. The pins were presented by this year's senior class of IB students, which numbers 36.
"This pin is small and may seem insignificant, but it's not. It commemorates all the hard work you've done, your induction into this organization – it celebrates you," senior IB student Zac Vavieur said.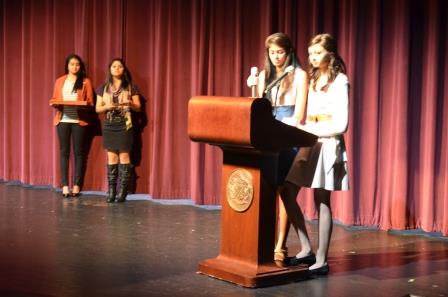 Vavieur, along with counterpart Rachel Wood, emceed the morning ceremony, which lasted roughly 30 minutes. Parents, some faculty and school administrators were on hand to witness the pinning.
According to its stated mission, "The International Baccalaureate program aims to develop inquiring, knowledgeable and caring young people who help to create a better and more peaceful world through intercultural understanding and respect."
Hoover High School English teacher Mr. Brad Coltrane leads the IB program.