19-APR-2013 (BPES) – Julie Elmore is a proud Hoover native, having graduated from W.A. Berry High School. Her quality education inspired her to return home and "give back" after receiving degrees and teaching certification through Samford University and UAB. This school year is her first year back in the classroom after being an instructional support aide the past four years, a stay-at-home-mom before that and a teacher in late 1990s. Mrs. Elmore enjoys running, exercise, time with friends and working on her classroom.
Elmore celebrates her 20th wedding anniversary this summer. She and her husband have three children: Jackson (15), Hayes (14) and Anna Lane (10) – as well as a cat (Bagheera) and snakes (which she says she doesn't claim as her pets!)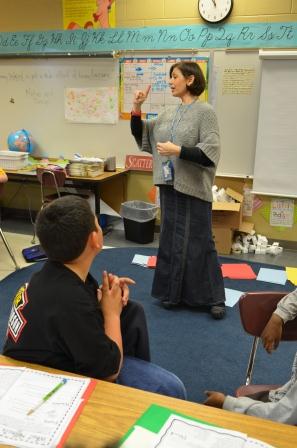 Q: How long have you been at Bluff Park Elementary – and what grades?
A: I have been at Bluff Park for five years, four years in special education and one year in 4th grade.
Q: How long have you been with Hoover City Schools?
A: Ten years, but took a ten year break in the middle.
Q: What do you consider to be the most rewarding aspect of your teaching career?
A: The most rewarding and humbling part of education is knowing that I am shaping these children into who they were created to become. It's not just about math and reading. It's intelligence, values, character, social awareness and so much more!
Q: How would you describe your teaching style?
A: I am pretty laid back in the classroom. I try to mold my style to the needs in the classroom environment. I firmly believe that my responsibility is to facilitate success for each child, whatever that means for them.
Q: How eager of a learner is today's student?
A: I feel like students today want to learn, but they don't want to have to "stretch" their minds and leave their comfort zone to do so. They are interested in learning, but don't always want to put in the sweat equity to get there.
Q: How has technology changed the way you educate students?
A: Technology can be a double-edged sword. It gives us the world at our finger tips as our "textbook" but we have become so dependent on that instantaneous response that we are losing the art of thinking for ourselves and being patient and waiting for the answer.
Q: How would you describe the way the Bluff Park community supports education and rallies around the school?
A: We have a wonderful support system in our parents, businesses and local politicians. I not only teach at Bluff Park, but I am a part of this community with my own family.
Q: What's the funniest thing a student has ever said to you or asked of you?
A: I had a student ask me this year… "So, you actually became a teacher because you WANTED to be with kids all day? Why would you do that to yourself?" I thought that was pretty funny and telling at the same time. I spend more time with many of these children than their parents get to.
Q: Parting thoughts?
A: It is truly an honor to have the charge of educating and inspiring the minds and spirits that will one day lead our communities, states, and how knows, maybe even our country!