29 Nov 2012 (HCS) – Gwin Elementary School Principal Dr. Kimberly White has been on the job for months now. She took over following the retirement of longtime principal Mrs. Linda Joseph. Dr. White's goal is simple: continue and build upon the incredible successes already in place at Gwin Elementary.
Q: How would you rate the start of this school year so far?
A: The year is off to a wonderful start! On a scale of one to ten I would give it a strong 8. We have already experienced lots of success and are making great progress toward meeting several of our goals for the year. The parents, teachers, students, and entire school community have welcomed me and our new assistant principal, Amy Gregory, warmly. They have enthusiastically joined us in working hard to maintain and improve the many positive things about our school.
Q: What are some things 'unique-to-being-principal' you didn't expect?
A: I think the job of principal must look much more simplistic from those who observe the things the principal does each day. The principal is actually responsible for everything from maintaining a safe and orderly climate to ensuring that quality instruction is provided to students each day and much more. I have been pleasantly surprised by the number of people who recognize me in the grocery store and thank me for what I do. This is especially nice when the person who stops me to say hello is one of our students.
Q: Gwin is known for having quality teachers and a supportive school community. What can you say about that?
A: There is a feeling of togetherness at Gwin that I hope people notice when they are here. Our teachers are committed to serving as partners with our parents in providing learning experiences that transform the students into productive and thoughtful citizens. We are very proud of our school and welcome others to join us in making Gwin a great place for children.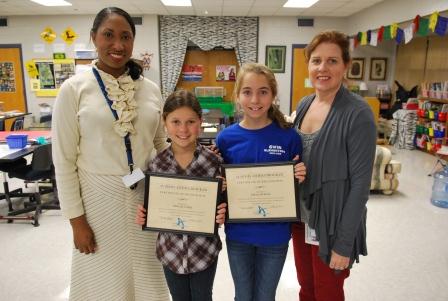 Q: What are some big projects/initiatives/community partnerships/etc. at Gwin coming up this school year that you can share, if any?
A: We are thrilled to say that we are continuing our focus on leadership for the adults and students at Gwin this year. Our teachers are participating in high quality professional development that helps to build their skills and knowledge and are focused on assessing the effectiveness of their teaching based on student learning outcomes. Our Leadership Team of teachers works to determine trends in education and needs of our students that inform the professional learning offered to our faculty. We are also excited about our student focus on the environment through our air quality and recycling programs. Our students as leaders continue to shine as ambassadors and are highlighted each week for demonstrating outstanding character at school.
Q: Any advice for aspiring elementary administrators?
A: Remember that education is first about people. Our commitment as educators, whether we are classroom teachers, counselors, or administrators, should be firmly based on the ideal that every person, is made better through the power of knowledge. If you are committed to leading others to achieve through providing opportunities for life-long learning then this may be the career path for you.
Q: What is the best-kept secret about Gwin Elementary?
A: We have the best people at Gwin! The faculty and staff at Gwin sincerely care about kids!
Q: Tell us a little about your professional background.
A: I began my teaching career as a first grade teacher in the Cobb County Schools in Georgia. I taught at Eastvalley Elementary School which was a Georgia Charter School. I left Eastvalley to pursue my masters degree in administration at the University of Alabama. While in Tuscaloosa, I taught at Rock Quarry Elementary School, a Science and Math Magnet School for Kindergarten through fifth grades. I then felt led to pursue my doctoral degree and moved to Nashville, Tennessee where I taught fifth grade at a newly formed middle school for grades 5-8 in the Metropolitan Nashville Public Schools. I worked full-time while earning my doctoral degree in School Leadership from Peabody College of Vanderbilt University. In 2002, I accepted the opportunity to move back to Alabama to work at Simmons Middle School as the Seventh Grade Unit Principal. After nine years at Simmons, I had the good fortune to return to my elementary school roots as the assistant principal at Gwin. When Linda Joseph retired in the Spring of 2012, I applied and was named the principal at Gwin where I am fulfilling my dream of leading teachers to improve the lives of children through learning.
Q: Tell us about your family, hobbies and interests outside of work.
A: I am married to my husband of ten years, Kevin White. We have two kind and curious children, Sidney Elizabeth, age 6 and Joseph, age 3. Our family is a lively bunch. We like to spend time together and with our extended family. We enjoy traveling to places near and far. In my free time, I enjoy cooking and writing. I keep a journal and like to write about the many experiences of my life.
Jason Gaston, Office of Public Relations, 205.439.1054