27 Nov 2012 (RES) – Jennifer Rich may not think she's had an exciting life, but the facts show otherwise. This Riverchase Elementary School librarian loves to scuba dive and hike mountains. She's taught as far away as Moscow, Russia and as close as Hoover High School. Despite the expeditions – her greatest love has become reading – and passing along the power of reading to children.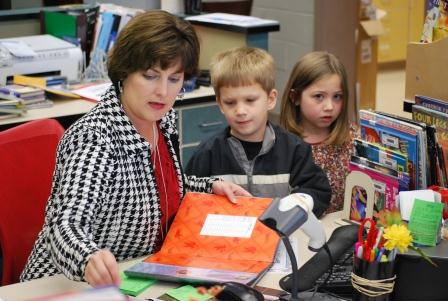 Q: Tell us about your background.
A: I began my teaching career at Central High School in Tuscaloosa as a 12th grade English teacher. My husband and I moved to Dalton, Georgia where I taught 11th grade English at Southeast High School for two years. We moved back to Alabama where I taught 9th and 10th grades at Central High West campus. While working on my Master's Degree in library science, I taught ninth grade English at Hoover High School from 1997-1999.
Q: How did you officially get into a librarian capacity?
A: After six years instructing high school students, I went to Brookwood Forest Elementary in Mountain Brook as a librarian. When the Alabama Reading Initiative began, I was asked to step into a new position as a reading coach. The love of books and the joy of sharing them with children in a brand new school lured me back to Hoover when Riverchase Elementary opened in 2004.
Q: How are things at Riverchase Elementary?
A: This school year is my 20th year of teaching and I still love being with the students! I also work with Mrs. McDonald, Mrs. Evans, and Mr. May to produce the HAWK TV news each day. At the end of each school year, Mrs. McKinley, the other specials teachers, and I work together to produce a video celebrating the year. This is one of my favorite parts of the school year, looking back at how the students have grown! I get to follow the students throughout their six years at Riverchase and see how they change and mature.
Q: How has this school year compared with others?
A: This school year has been a challenge for me. For the last six years, I have traveled to and from school with my son. This year he is in middle school and everything seems a little strange. However, there are many new things to keep me busy! I am very excited about the Nook pilots and establishing an eBook library for our students with the recent system purchase of Overdrive. The Riverchase Elementary community of learners makes the difference each day with our students. We learn from each other and encourage one another when the challenges arise.
Q: From where does your zeal for education come?
A: My mom is a retired teacher and librarian. She is a wonderful example of a hardworking, diligent teacher! She is the reason I entered the teaching career. I watched her incorporate changing technology and become an innovator at her school. We were one of the first families to have a computer in our community because my mom took on the challenge of integrating computers in her school.
Q: How has technology changed the way you do business?
A: I have watched and embraced the changing technology in my 20 years of teaching. The first class I ever taught was actually in Moscow, Russia following graduation from the University of Alabama in 1992. I basically had to teach my lessons on the back of newspapers taped to the wall because we had so few supplies. Granted, a lot has changed since then! My lessons today are still about sharing great literature and researching and finding the information students need, but I have Smartboards, iPads, Nooks, computer labs, and electronic books to support their learning! Even with all of the exciting technology, the people I work with are the reason I feel successful at the end of the day. My coworker, Beverly Alexander, has been with Hoover City Schools since the beginning. Her 25 years of experience can't be replaced by anything electronic!
Q: What advice would you give up and coming libarians?
A: I encourage anyone who is considering becoming a librarian, to be ready to embrace an ever-changing profession! Planning with teachers and connecting to the learning in the classroom is essential to being successful in the library profession. It is also extremely important to continue professional development! The Hoover librarians meet together once a month to continue our learning and share nuggets of knowledge and experience with each other.
Q: What's the best part of your day?
A: The thing I love about my job is that no day is the same. From writing workshop with kindergarten to Scratch programming with 5th grade, I am always learning new things as well! Encouraging students to find new books is like equipping them for a long journey, one I hope they will enjoy for years to come.
Q: What's your spare time like?
A: My family and I enjoy church activities, traveling and spending time together watching soccer and Alabama football. We like skiing in Montana, swimming in the Caribbean, enjoying the Smoky Mountains, and planning our next adventure (Alaska Summer 2013). My husband and son are avid scuba divers, but I prefer reading on the beach!