School, State officials cut ribbon on new space
21-Oct-2012 (SMES) – Shades Mountain Elementary School wisely used its 2012 Parent Fall Social to debut its new sports field, garden and ecospace. A ribbon cutting ceremony featuring several dignitaries was held to introduce the new amenities.
"[Alabama State] Representatives Paul DeMarco and Jack Williams supported our school throughout the years, providing community grant appropriations. This event offered an opportunity to show them first-hand that we have been good stewards of their funding," Principal Juli Feltham, who emceed the ceremony along with PTO president Heidi Morris, said.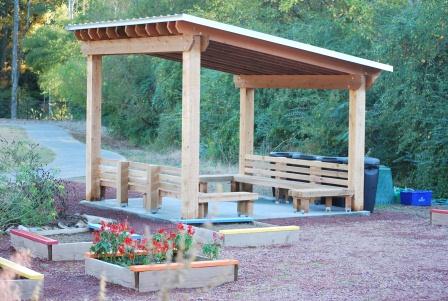 DeMarco and Williams joined Hoover City Schools Superintendent of Education Mr. Andy Craig and Assistant Superintendent Mrs. Carol Barber. Feltham recognized all of them for their time, support and vision – along with that of two key parents.
"The expertise and diligence offered by [Birgit Kibelka and Kara Harrison] who saw not only the opportunity offered by this area but also sought out additional resources to develop it is amazing," Feltham said.
Aside from community grants and city support, Shades Mountain Elementary partnered with local businesses and non-profits to make the new outdoor areas a reality. The space features expanded athletic areas for students, a butterfly garden, a pavilion to be used as an outdoor classroom and a rainwater-reclamation station.
"I consider myself extremely blessed to be a part of a strong/gifted faculty with a supportive district and community," Feltham said. "If we can dream it, they will (find a way to) build it."
See event photos here.
See additional coverage on AL.COM
-Jason Gaston, HCS Public Relations, 205.439.1054