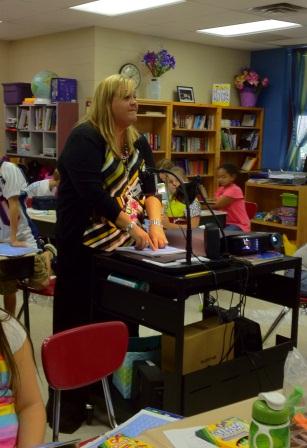 10-05-2012 (GREYSTONE) – Greystone Elementary School 4th grade teacher Mrs. Danielle Peterson has been named an Alabama finalist in mathematics for the Presidential Award for Excellence in Mathematics and Science Teaching (PAEMST). News of the award, which is presented to K-12 teachers for recognition of outstanding teaching in math and science, came in late September from the Alabama State Department of Education.
"This award is considered one of the highest awards given in education. It is a true honor just to be nominated as a finalist," Peterson said.
Peterson was nominated by her colleague at Greystone Elementary, Shane Callans. Callans was the 2006 recipient for the PAEMST award. Two teachers (one math, one science) are selected from each state/jurisdiction and become finalists for the National PAEMST Award. Applicants are evaluated on five dimensions of outstanding teaching:
· Mastery of mathematics appropriate for grade level taught
· Use of instructional methods and strategies appropriate for students in the class and that support student learning.
· Effective use of student assessments to evaluate, monitor and improve student learning
· Reflective practice and life-long learning to improve teaching and student learning
· Leadership in education outside the classroom
"It is a true honor just to be nominated a finalist. This award is considered one of the highest awards in education," Peterson said. "I am grateful, excited and overwhelmed. I have had many strong mentors in teaching mathematics at Greystone and throughout HCS, challenging me to think what is best for kids and how I can best implement math instruction for each learner."
During 2012-2013, national judges will begin assessing finalists from each state to determine the national award winners. All Alabama finalists will receive recognition from ALSDE in 2013.
Jason Gaston/Office of Public Relations/205.439.1054