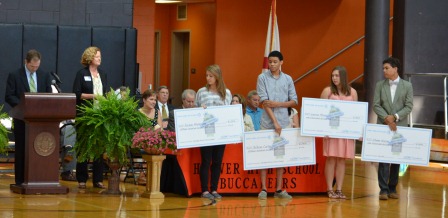 05-01-2012 (HHS) - Hoover High School Finance Academy teams were recently honored at Hoover High School's annual Awards Day. The students were also asked to present before the Alabama Society of CPAs (Certified Public Accountants) at its annual board meeting in Montgomery. Why all the attention? These young finance-minds placed nationally in an accounting competition and have drawn the praise of their teacher, Mrs. Madge Gregg.
"The teams did an excellent job presenting their Project Innovation ideas to the Alabama Society of CPA's at their annual board meeting. After their presentations, the students had an opportunity to network with the board members and many of them gave the kids their business cards. The ASCPA Executive Director, Jeannine Birmingham, told me they were very impressed with their skills—that many of their new hires aren't as articulate and personable as these kids were," HHS Finance Academy director Madge Gregg said.

[Begin Accounting Today article] A team from Hoover High School in Hoover, Ala., was crowned winner of the American Institute of CPAs' Project Innovation: The Start Here, Go Places Competition of Creative Excellence, which challenged students to submit new feature ideas for the Start Here, Go Places website.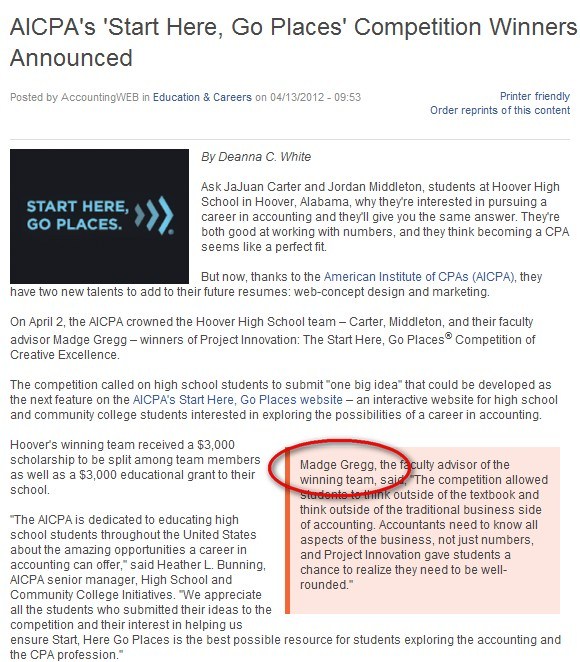 The two-student team, named The Might Morphin' Flower Arrangers, received a $3,000 scholarship, to be split, and a $3,000 educational grant for their school. Comprised of students JaJuan Carter and Jordan Middleton, with Madge Gregg as faculty advisor, the team presented the idea of converting an existing board game into an online accounting game.
The team's goal for this educational game was to increase engagement, the number of teenage visitors to the site, and the time they spend there.

See more from Accounting Today