1 April (CROSSROADS) – A few weeks back, students here were testing for a HAM (handheld amateur radio) license. This FCC (Federal Communications Commission) examination was the culminating event in Crossroads' Wireless Technology Personal Development (PD) Course, weeks of study which turned William "Red" Willoughby's classroom into a communications hotbed.

"As for the interest level observed in our student participants, we have several students who are fascinated with the electronics subject matter and the associated lab experiments they have performed during the course. In fact, it is clear now that at least a couple of the students will pursue careers involving electronics/computers/robotics," Willoughby said.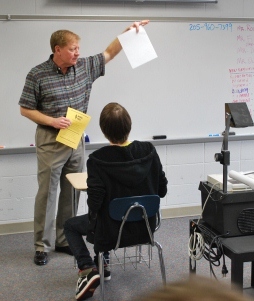 The Wireless Technology Personal Development course, part of a larger series of extra-curricular offerings to Crossroads School students, was supported by a highly-active team of volunteers from the Amateur Radio Advancement Group (ARA). Birmingham-based ARA, a non-profit designed to boost interest in amateur radio, provided Willoughby's class with materials which complemented curriculum, as well as laboratory equipment.
Jim Rogers (W4ATK), ARA Training Coordinator, spent many hours at Crossroads with this project.
"Our hope for the students was for all of them to emerge as brand new amateur radio operators, enthused, ready, and able to assist and serve others through the use of amateur radio both in emergency and non-emergency situations when normal lines of communications are interrupted, ready to themselves become promoters of amateur radio among their peers. We are in effect seed planters," Rogers said.
The seed planting seemed to have worked. Several Wireless Technology students at Crossroads continue to cultivate their interest in HAM radio – and have even been profiled in a national trade publication.
"Our PD class has also taken field trips to observe applications of wireless technologies where considerable opportunities exist to coach students in proper grooming, personal presentation, decorum and linguistics," Willoughby said. "The end goal of all of our PD classes is to address the whole child socially and emotionally."

Jason Gaston/HCS/205.439.1054