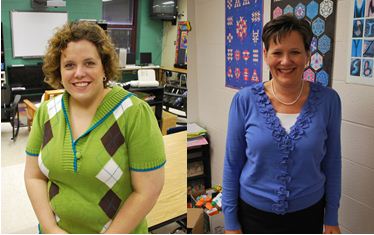 (HCS) – Two Hoover City Schools teachers have made the Alabama Department of Education's "Sweet 16" – the sixteen Alabama Teacher of the Year finalists chosen from school systems across the state.
From Hoover, Mrs. Amanda Fox of Greystone Elementary was chosen as a finalist in the Elementary division along with Mrs. Suzanne Culbreth of Spain Park High School in the Secondary division.
"I am humbled by being selected to represent such an amazing group of teachers. There are so many wonderful teachers in this area, that I am honored to be a part of this list," Mandy Fox said. "I know that many teachers give above and beyond each day to reach their students. Making a difference in a child's life is why we all are here. It feels good to be a part of recognizing teachers for their hard work and devotion to teaching."
"Being named to the 'Sweet Sixteen' is a huge honor. There are so many talented teachers here in Hoover City, to be nominated by my peers and then chosen for the next level is very humbling," Culbreth said. "I love working for Hoover City Schools because there is an emphasis on student learning. We are provided with not only the resources and tools, but also the time and encouragement to meet our students' needs and prepare them for their future."
The selection process for Alabama's Teacher of the Year begins at the school system level. Each school system can nominate an elementary and secondary teacher at the district level. One elementary teacher and one secondary teacher are selected from each of the eight State Board of Education districts. A state selection committee selects four teachers from the 16 district finalists to be interviewed for the titles Alabama Teacher of the Year and Alternate Teacher of the Year. The final four will be announced during the month of April. This year's broadcast can be seen on your local APTV channel on Wednesday, May 9, at 7:00 p.m. See the official Alabama State Department of Education (ALSDE) news release here.
See local media coverage here.
For more information, contact Jason Gaston at 205.439.1054