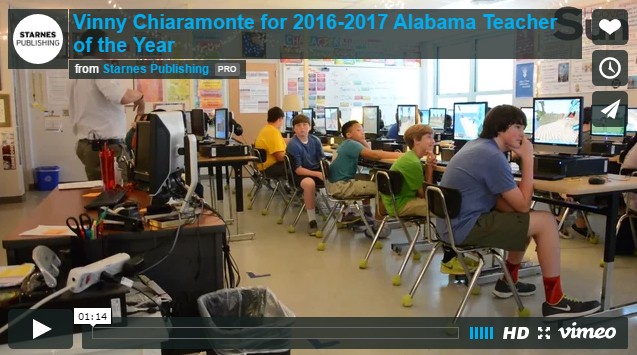 01-May-2016 (HCS) – R.F. Bumpus Middle School teacher Mr. Vincent (Vinny) Chiaramonte has been named among the four finalists now vying to become the 2016 Alabama Teacher of the Year. He rose to this candidacy after being named the R.F. Bumpus Middle School 2015-2016 Teacher of the Year and the Hoover City Schools Secondary Teacher of the year.
Now in his second year with Hoover City Schools/R.F. Bumpus Middle School, Mr. Chiaramonte teaches 7th and 8th grade computer science. He's been an educator for six years, having taught in other schools in metro Birmingham and South Carolina before coming to his present position. Mr. Chiaramonte's path to the classroom is anything but conventional; he readily admits he dropped out of high school – only to return to his studies gaining his G.E.D., a Bachelor's degree and a Master's degree. It was a trajectory that taught him lessons in humility, hard-work and persistence.
"I found that my place was to expose, impact, equip and empower young people to think beyond their current place in life and dream that there is quite literally a world of options out there. We are all made differently and all of paths and places will not look the same, nor should they," Chiaramonte said.
Mr. Chiaramonte has worked hard to make positive inroads at his workplace. In his first year at R.F. Bumpus Middle School, he helped "reboot" the campus – with the support of administrators.

"We kept what worked, tweaked what did not and discarded the unnecessary. I am humbled to have played a pivotal part that lead in planning and designing the structure."
Chiaramonte joins Dana Jacobson (Clay-Chalkville High School, Jefferson County Schools) as the two Secondary teacher of the year finalists. Dawn Davis (Montana Street Academic Magnet School, Dothan City Schools) and Sandy Deades Ritchey (Crestline Elementary School, Mountain Brook City Schools) are the Elementary teacher of the year finalists. Kathryne Flippo, a kindergarten teacher at Bluff Park Elementary School, was named as a "Sweet 16" finalist for Alabama Teacher of the Year and will be recognized with other Sweet 16 finalists.
The 2016-2017 Alabama Teacher of the Year will be revealed at a ceremony hosted by the Alabama State Board of Education and the Alabama State Department of Education at 6 p.m. on Wednesday, May 11, 2016, at the RSA Plaza Terrace in Montgomery.

See the official Alabama State Department of Education news release here.