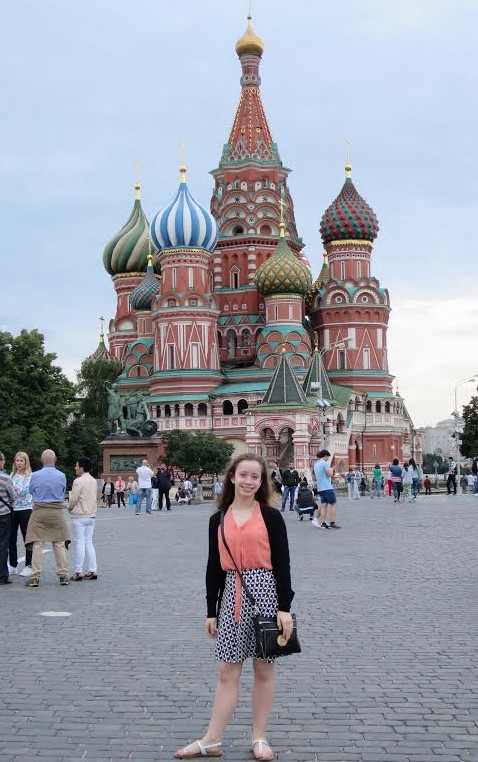 09-25-2015 (HCS) - Birmingham Ballet Academy welcomes home Katherine Free who is one of 15 American high school ballet dancers who just returned as ambassadors and finalists of the National Security Language Initiative for Youth (NSLI-Y) RAF & Bolshoi Way Program, a U.S. Department of State Program in collaboration with the Russian American Foundation and internationally renowned Bolshoi Ballet Academy of Russia.
Katherine Free is a resident of Hoover and a junior at Hoover High School. Ms. Free was chosen as a finalist for the merit-based scholarship program through an application process that included an audition in classical ballet along with an interview and essays. The ballet training she received at Birmingham Ballet Academy combined with her interest in Russian culture and language made her an excellent candidate for the program. Her experience included a three week per-departure Bolshoi Ballet Academy Summer Intensive in New York City followed by a six week program in Moscow, Russia. While in Moscow, she took ballet at the Bolshoi Ballet Academy during the morning hours, took four hours of Russian Language lessons in the afternoon, participated in cultural activities in the evenings, lived at the Academy dormitory in Moscow during the week and lived with her host family in the countryside for two weekend nights each week.
Katherine Free, age 16, is a student at Birmingham Ballet Academy and an apprentice member of Birmingham Ballet's Professional Repertory Company. Birmingham audiences have seen her featured in Birmingham Ballet performances at the BJCC as Clara in The Nutcracker, Dew Drop Fairy in The Nutcracker, Wendy in Peter Pan and most recently Odette in Swan Lake. This year she will dance the role of Sugar Plum Fairy in Nutcracker performances at the BJCC December 11 - 13.
Ms. Free is the second female dancer in Alabama to receive this honor. The first dancer from Alabama to receive this honor, Elizabeth Lindsey, is also a student of Birmingham Ballet Academy located in Vestavia Hills.