10-18-2014 (HCS) - Stanford University has recognized Hoover High School's Jane Bruce as part of the California university's Teacher Tribute Initiative. Mrs. Bruce received notification from Stanford University following a nomination from Stanford freshman Xianming Li (HHS '14).
Mrs. Bruce, an information technology instructor, was recognized for her "….dedication as an educator and a mentor" and her contributions to education which "help her students, her community and Stanford University." Hoover High School Principal Mr. Don Hulin presented Mrs. Bruce with the Stanford recognition October 9.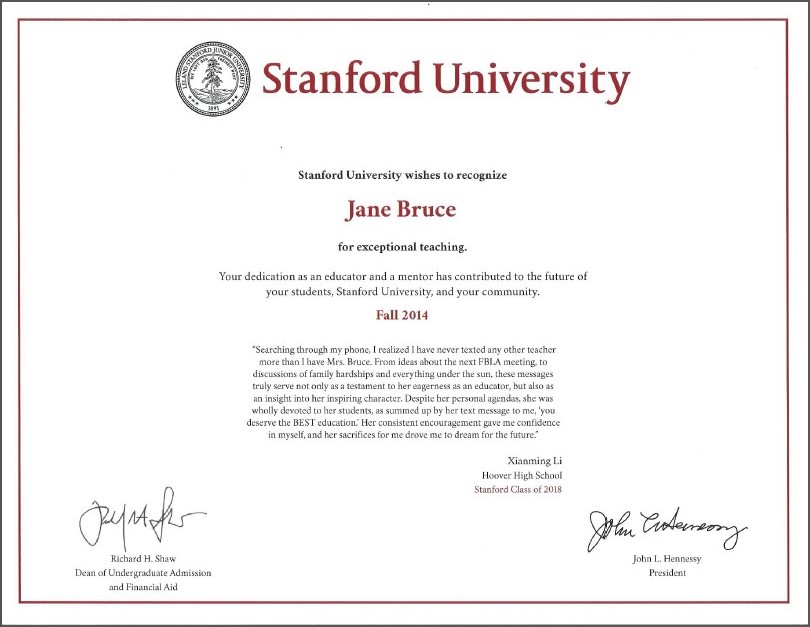 "Xianming's success is extremely rewarding to me; sometimes you don't really realize the impact you have on students, and students don't realize the impact an encouraging word has on their teacher," Bruce said.
Li, the Salutatorian for Hoover High School's Class of 2014 (Stanford 2018), indicated in his nomination of Mrs. Bruce that he was continually inspired by Bruce's clear communication, eagerness to teach and her inspiring character.
For Mrs. Bruce, taking part in crafting students' intellectual, academic, social and personal development is all part of the job.
"Our administrators and my colleagues in the Commerce and Information Technology Department are so supportive and helpful; I feel I have grown so much professionally from being at Hoover High School," Bruce said. "It is truly an educational utopia. Mr. Hulin has encouraged us to build relationships with students, and that is what we are doing."