15-Jan-2014 (HHS/SSC) – It may be the dead of winter, but two HCS educators have already begun planning for another collaborative marine science event following their inaugural "Ocean Fun Day" in December.
"Ocean Fun Day" brought together Mrs. Galey Thomas' 2nd-graders from South Shades Crest Elementary and high school students in Mrs. Sara Taylor's Marine Science Lab at Hoover High School. Meeting at Hoover, the high schoolers and their young counterparts collaborated in a lab setting on the topic of oceanic exploration.
Largely led by Taylor's students, the 2nd-graders rotated among "stations" showcasing the ocean's importance; beach safety (stingrays, jellyfish, etc.); sand experiments; and marine biology. The tactile component came into play, too; students could get up close – even touch – marine life including seashells, sea stars, sea urchins and hermit crabs.
"This was truly incredible and the outreach to Mrs. Thomas' class was a tremendous expansion of the concept," Taylor said. "My students glowed as they taught the 2nd-graders what they had learned and the 2nd-graders' enthusiasm was fantastic."
Taylor's students began prepping for their instruction of elementary students following a successful tide pool exploration lab in November. In each station, high school students explored "something neat to discover" according to Taylor. This included a live animal, models, animals preserved in plastic or solution, an informational display and/or video clip.
"Through these hands-on and visual materials, the lab serves to involve students in analyzing adaptations of intertidal organisms (the current topic of study), reviewing characteristics of specific animal phyla, formatively assessing/applying what students have learned and also as an inquiry into animals not yet studied," Taylor said. "Beyond this, one of my main goals for the lab is for students to be exposed to live creatures they might never be able to explore otherwise."
SSC 2nd-graders were prepped for their visit with a brief PowerPoint presentation and video clips, a way to inform and excite.
"I have been teaching for 20 years and in all that time, this was the best field trip I have ever been on," Thomas said.
Beyond instruction, the field trip proved valuable on other fronts, according to Thomas. It gave students a glimpse at the high school environment and helped them better understand what "older students" do during instructional time. All in all, it was a field trip unlike any other for these South Shades Crest 2nd graders.
"A special bonus was that my daughter, Hannah, has Mrs. Taylor and was also a part of the day," Thomas said. "Hannah serves as a peer tutor in my classroom, so the children love to be around her and wanted to meet 'her friends.'"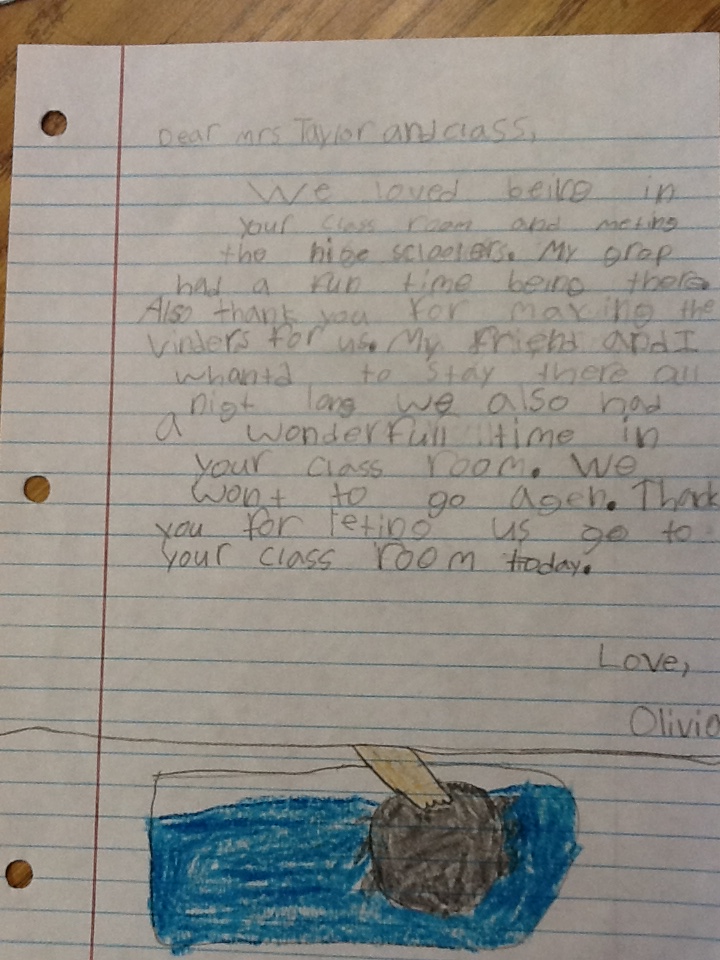 "We wrote books about our experience and learning. No one had trouble thinking of something to write. They were full of information to write about," Mrs. Thomas said. "They could have written much more and many of them did – all on their own."
"The 2nd-graders were very well-behaved thanks to Mrs. Thomas' magic - and the structure of the station learning provided authentic engagement for both levels of students. All in all, an incredibly rewarding day for teachers and students alike," Taylor said.
The marine science lab at Hoover High School blossomed following a grant from the Hoover City Schools Foundation during the 2008-2009 school year. Taylor wrote the grant, which she titled "Making Waves in Hoover."
"Thanks to the grant, I was able to get this started and enjoy continuing and adding to it each year!" Taylor said.
Both Thomas and Taylor have been communicating, planning for a similar trip later this year or early next year.
See a blog post on the Ocean Fun Day lab.
-Jason Gaston/Hoover City Schools