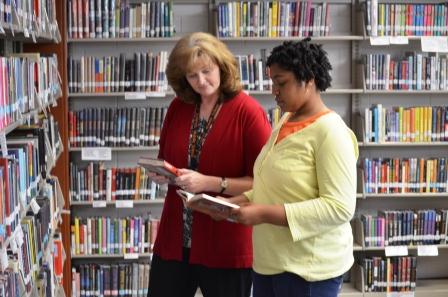 05-08-2013 (RFBMS) - Mrs. Dana Mims has served in education 20 years, fourteen of those with Hoover City Schools. She's a proud native of "Peach Country" (Chilton County), where she attended Thorsby High School. There she met her high school sweetheart, Greg Mims. Together, they have three children: Josh, Jacob and Joy – all graduates of Hoover High School and the University of Alabama. Over the years, her family has grown to feature two "beautiful" daughters-in-law (Crystal and Mary Kate), two of the "cutest grandkids ever," Braylen and Sarah; and two hound-dogs: Chunk and Arley.
How does Mrs. Mims keep it all together? Lots of practice, perseverance and patience!
Q: How many years have you been in education?
A: I have been involved in education for 20 years. I started out teaching pre-school at First Christian Church and then at Green Valley Baptist for 4 years. When my youngest child started kindergarten at Trace Crossings Elementary, I decided to pursue a degree in education.
Q: How long have you been at RFBMS?
A: I have been at Robert F. Bumpus Middle School a total of 7 years. I was first employed as the Library Media Aide during 2000 -2001 school year and then returned to Bumpus as the Media Specialist the fall of 2007. Between the fall of 2001 and the spring of 2007 I was the Media Specialist at Greystone Elementary.
Q: From which colleges/universities did you earn your degree?
A: I graduated from the University of Alabama at Birmingham in June of 1999 with a Bachelor of Science degree in Elementary Education. I then graduated from The University of Alabama with a Master of Science of Library and Information Services in 2003.
Q: What other jobs have you held prior to HCS/RFBMS?
A: I worked for Alfa Insurance for about 3 years and then was very fortunate to be able to stay at home and be a full time wife and mother for several years before entering the Education profession.
Q: How would you describe your library?
A: I think the Bumpus library is a place that is very welcoming to all students and teachers. Sometimes it is very quiet and other times it is very noisy. I like to think of our library as a learning place, where students at any level can feel comfortable and know they will be helped. I also try and make sure their needs are met, whether it is print job, a book they want the library to purchase, or just a quiet place to study.
Q: How many volumes are in your collection?
A: Currently we have about 12,000 items.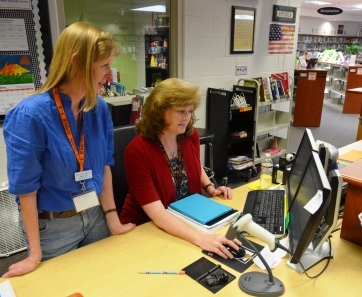 Q: What do you see happening to your physical volumes as they continue to intersect with new library technologies and digital e-books?
A: I serve 7th and 8th students and teachers at Bumpus Middle School. My students' needs are changing because technology is changing. I feel that the library's physical volumes as well as textbooks will decrease with time because many of them are now available online. Once all of our students have devices, they will be able to gather more up to date information for their research. The main goal of Library Media Specialists is to assist students in becoming a 21st Century Learner. Whether the information a student needs is in a physical book in the library, or available online, they will still need guidance in locating the best information for their research.
Q: Many describe the library/media center as the "heartbeat" of any school. What are your thoughts there?
A: I do believe the school library is very important to the culture of the school. Students and teachers should feel that the library is a good and safe place to be. We strive to make them feel welcomed and confident that their research needs, information needs, study/work needs will be met.
Q: What do you think students enjoy most about your library?
A: It has to be my silly jokes, in other words I "try" to make the students smile or laugh every day. The curriculum in middle school is very challenging and many times even the avid readers' start realizing their "reading time" has been replaced with studying for their core classes. So when students enter the library my main goal is to make sure they are focused on their core classes and completing their assignments, but to also read for fun.
Q: What do you think is currently the biggest misconception about libraries?
A: Many people do not realize the number of students and teachers the library assists each day. The Bumpus library is open at 7:30 a.m. and we see approximately 45 to 55 students each day before school begins. On a typical school day, the library will serve between 150 to 200 patrons.
Q: What do you enjoy the most about your career?
A: I have said to my friends many times that I love going to work every day. I have the opportunity each day to work with such wonderful students, teachers, parents and our terrific staff.