15 Feb 2013 (SPHS) – Neely Woodley was approved as a new assistant principal for Spain Park High School at the Hoover Board of Education's February meeting. Principal Dr. Ken Jarnagin hired her to join the school's administrative team.
"Spain Park High School is a highly-regarded and well-respected high school. I have always heard wonderful things about the school and the Hoover School District. I am excited to be a part of this school and look forward to working with the students, teachers and parents," Woodley said.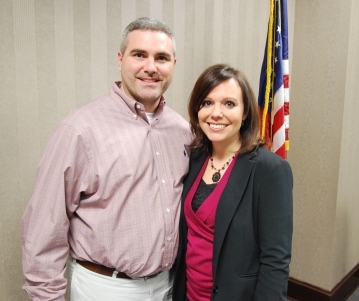 Woodley continues to learn her way around the large campus, meeting faculty and students along the way. Her duties at this point include assisting with student discipline, building supervision and master schedule planning.
"I enjoy working in the areas of school improvement, professional development, and curriculum and instruction. I want to assist the faculty and students in any way that I can or am needed," Woodley said.
Woodley's three degrees all come from the University of Montevallo: Bachelor of Arts/English (2001); Master's in Leadership and Administration (2004); and Educational Specialist (Ed.S) (2009). She's currently working on her doctoral dissertation at Samford University.
Prior to Hoover City Schools, Woodley worked in the Shelby County School System. She's a native of Pleasant Grove and is married to Nicholas Woodley (coach at JeffCo's Oak Grove High School). The couple has two children.