02-23-2013 (HHS) - Carrie Busby has stayed true to the Buccaneers throughout her professional teaching years. Starting out as an intern for Hoover High School, Busby has now worked her way from the classroom to administration. Despite making the change in the middle of the school year, Busby has made a smooth transition into her spot as the 10th grade Assistant Principal and by now is a familiar face in that post. She fills a vacancy left by long-time Berry High School/Hoover High School administrator, Mrs. Kathey Long.
"The biggest surprise about my transition from the classroom to administration is the sheer volume of work that comes at our administrative team on any given day," Busby said. "Although we all might have scheduled meetings, conferences, etc. throughout the day, we also must juggle the unpredictable events that occur.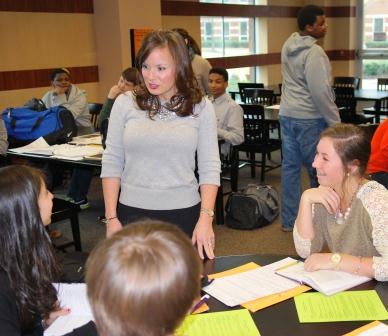 Controlling a classroom of high schoolers was unpredictable enough. Now, Busby faces a new set of challenges including cafeteria supervision, coordinating IEP (Individualized Education Plan) meetings, classroom observations, parent/student meetings, discussing classroom/student issues with teachers, addressing attendance/discipline issues for all sophomores and making daily contact with teachers and students.

"After the students leave, I generally return to my office to catch up on as much paperwork as possible," Busby said. "I've really enjoyed working with the other administrators. They have all been a great source of wisdom, support, and encouragement."

Busby finds herself joining the Hoover High School administrative team at an exciting technological time. The school system just in the past year rolled out the Engaged Learning Initiative (E.L.L.) which has put iPads in the hands of every senior and junior, with plans for expansion in the years to come. Wireless printers can be found through the facility, along with e-books, e-readers and iPhones – all encouraged in the classroom.

"I didn't have a cell phone or a computer in my home when I was a senior in high school in 1990, and now look at what our students and teachers are doing on a daily basis due to the advances in technology. It's all very fascinating!"

Busby received her Bachelor of Science degree from the University of Alabama and her Master's degree from the University of Montevallo. She began her career in education as a 9th grade English teacher for Hoover High School in 1995. Following a few years' break to have children and start a family, Busby returned to HHS in '06 as a 12th grade English and Peer Helping teacher. She and her husband of 17 years, Scott, enjoy time with their two children: Jake and Riley – who keep the family busy with everything from football to cheerleading.
-HCS Office of Public Relations, Kate Morrell