HHS Director of Bands Ryan Fitchpatrick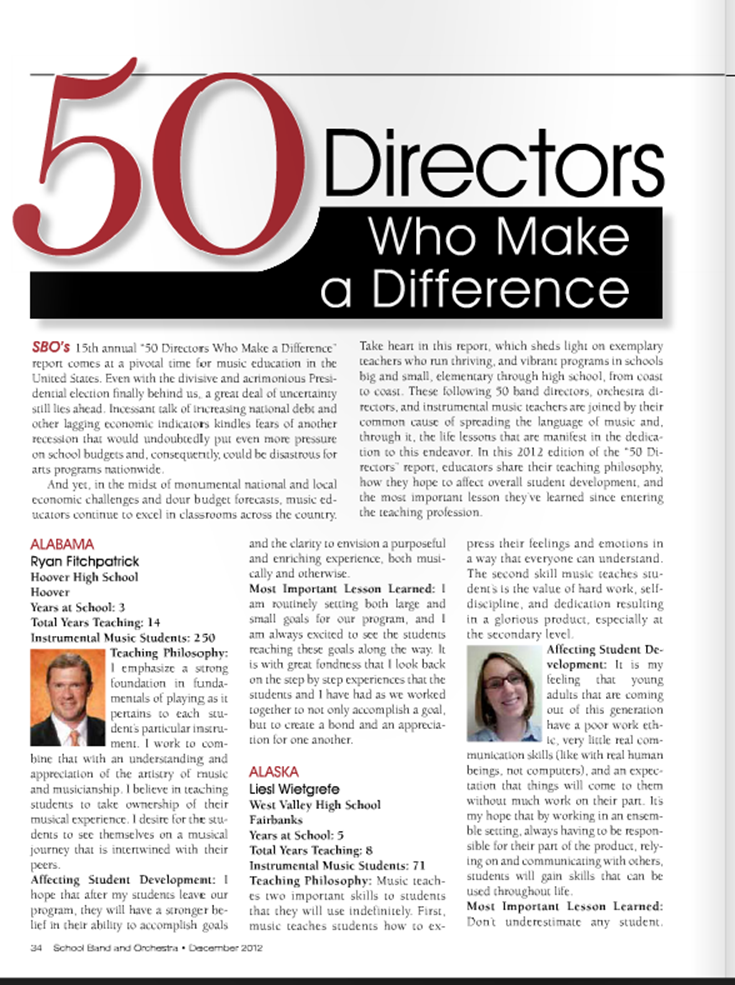 01-15-2013 (HHS) - Hoover High School Director of Bands Mr. Ryan Fitchpatrick has been named among America's "50 Directors Making a Difference" in the December issue of SBO magazine (School Bands and Orchestras).
Like the 49 others chosen, Fitchpatrick "...[is an] exemplary teacher who runs a thriving program".
"These 50 band directors, orchestra directors and instrumental music teachers are joined by their common cause of spreading the language of music and through it, the life lessons that are manifest in the dedication to this endeavor," an introduction to the report says.
What are Fitchpatrick's keys to success? His philosophy sheds some light.
"I emphasize a strong foundation in fundamentals of playing as it pertains to each student's particular instrument. I work to combine that with an understanding and appreciation of the artistry of music and musicianship. I believe in teaching students to take ownership of their musical experience. I desire for the students to see themselves on a musical journey that is intertwined with their peers," Fitchpatrick told SBO.
Band directors were asked to share their philosophies, how they hope to affect overall student development and the most important lesson they've learned since entering the teaching profession.
"I am routinely setting both large and small goals for our program and I am always excited to see the students reaching these goals along the way," Fitchpatrick said. "It is with great fondness that I look back on the step-by-step experiences that the students and I have had as we worked together to not only accomplish a goal, but to create a bond and an appreciation for one another."
See the full report and full issue of SBO here.
Fitchpatrick has been at Hoover High School a total of three years, adding to his 14 years of total teaching experience. His band includes some 250 instrumental music students. See more at www.hooverband.com