29 Nov 2012 (GWIN) - New Gwin Elementary School assistant principal Mrs. Amy Gregory has enjoyed the transition from the classroom to administration. She's excited to be a part of a team which is constantly moving forward and looking for new ways to help kids learn.
Q: How has the transition been for you so far?
A: The transition for me has been really exciting. I have looked forward to this opportunity for a long time. Dr. White is an excellent role model and mentor for me and has made this transition even easier. I also feel fortunate to have had the opportunity to work at two other Hoover schools with administrators that have been instrumental in preparing me to become an effective leader.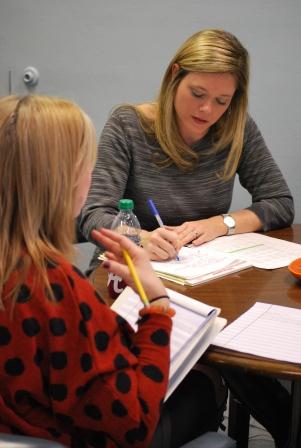 Q: In a nutshell, when someone asks "What do you do all day?" – What is your typical response?
A: Honestly, it is different every day. Some days I feel like I do everything and some days I am so busy that I feel as though I haven't gotten anything done all day. This job is teaching me that you have to be knowledgeable in many different areas, many in which you haven't been formally trained. You ask many questions as a first year administrator. There is a good deal of "on the job training".
Q: What has become your favorite thing about being at Gwin Elementary?
A: My favorite thing about Gwin has been the community of people, including parents, teachers and students. Everyone has been so excepting and welcoming to me. We are excited about the possibilities that lie ahead of us at Gwin.
Q: How did you prepare yourself for an administrative role?
A: Honestly, I started out by interviewing my principal to decide if this was the right fit for me. I then enrolled at UAB and gained formal training including a Master's and EdS in Instructional Leadership. I took on as many leadership roles that I was offered to prepare me in managing tasks and collaborating with other leaders.
Q: What advice would you give to classroom teachers or other personnel looking to aspire to administration?
A: I would suggest talking to your administrators about serving in a leadership role at the school level to see if it seems like a good fit. I would then seek out someone you trust to mentor you, a person who might be able to advise you in seeking out opportunities to serve in a leadership capacity in the District and community.
Q: Tell us a little about your professional background.
A: I started out teaching in Jefferson County at Pinson Elementary. I moved to Kentucky when I married my husband and taught a multi-age kindergarten/first grade class and a second/third grade class for five years. When I moved back to Alabama, I began working in Hoover at Deer Valley Elementary and taught in third and fifth grades for four years. I then became the Reading Coach at Bluff Park Elementary last year before becoming the Assistant Principal at Gwin this year.
Q: Tell us about your family, hobbies and interests outside of work.
A: My family is the most important part of my life. My husband Brian is the Director of sales at Southern Label. I have a seven year old son Bear, who is a Gwin student. Spending time with my family is my favorite thing to do. We enjoy the outdoors and spend a lot of time at Lake Logan Martin. We also love to take our dog Maggie to the Old Town Helena Park to swim. We especially love to watch Kentucky basketball and Alabama football – Go Cats and Roll Tide!!
Jason Gaston, Office of Public Relations, 205.439.1054