11-28-2012 (SMS) - Stephanie Watkins, a Hoover native, teaches the self-contained special education class at Simmons Middle School. She's been in Hoover City Schools ever since college at Auburn University. She's married to her high-school sweetheart, Harman Watkins. The couple traveled to Turks and Caicos for their honeymoon and hope to go back someday (...or NYC - Stephanie's other favorite place!). Stephanie enjoys taking care of her dog Lexie, exercising, cooking and of course - teaching.
Q: What subject areas/grades do you teach?
A: I teach the self-contained special education class. I have students in 6th, 7th, and 8th grade.
Q: How did you become interested in teaching?
A: I was involved in the Peer Helper program at Hoover High School with Mrs. (Teri) Borie. Through this program, I had the opportunity to work with the students in the self-contained class at Hoover as well as the self-contained class at Berry Middle School. I fell in love with these amazing children and knew that was what I wanted to do.
Q: How has your teaching evolved over the years with different state/federal standards, technology, etc?
A: The changes in technology have definitely impacted my teaching. It has allowed me to offer ways of communication for my students who before had limited means of communication. I have enjoyed incorporating activities on the iPad into our classroom on a daily basis. The students are more engaged and eager to learn.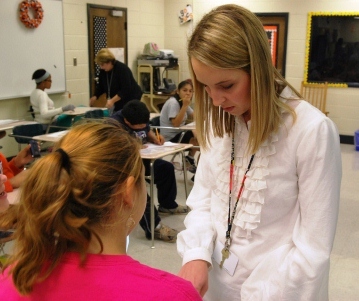 Q: What advice would you give teachers-in-training?
A: My advice to teachers-in-training would be for them to take advantage of the best resources within their school, the other incredible teachers. Your fellow teachers can be some of the greatest assets to you in establishing your career as a teacher. Also, do not be afraid to approach your administrators for help. Staying open with them about your concerns shows that you care and are engaged. Your administrators will likely do everything that they can to help you!
Q: What's the most unusual thing a student has ever asked you/done in class? [that you can share, if any!]
A: There are definitely some things that I cannot share, but I had a student reciting the Pledge of Allegiance once, and at the end of it, I heard her mumble through "One nation, under God, indivisible, with liberty and justice", and then she confidently said "FROG!"
Q: How does this school year compare to others thus far?
A: I am blessed with an amazing group of students year after year who teach me something each and every day. This year has been just as incredible as my first 3 years, but I feel much more comfortable and settled into my position than I have previously. I am still learning and growing as a teacher, but it definitely becomes more natural with more experience.
Q: What's the best part of your day?
A: The best part of my day is when I am sitting at my computer working (usually about 7:40 in the morning) and I start to hear my students coming up the hallway because I know, just a short time later, they will burst into the room with a bright and cheerful "Good Morning, Mrs. Watkins!" Seeing them so eager and ready to start learning makes my day incredible!