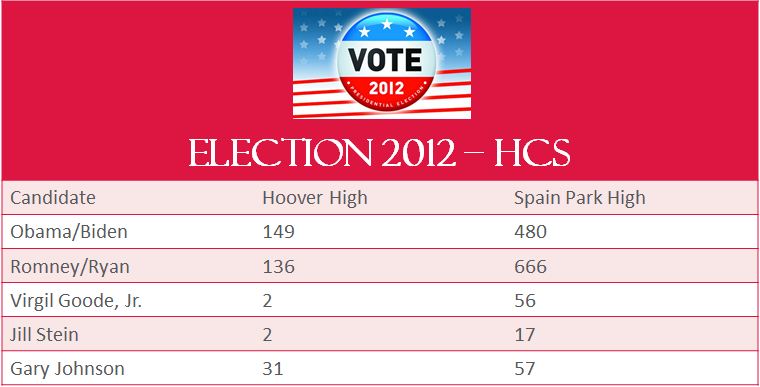 7-Nov-12 (HCS) – Presidential vote tallies from the district's two high schools are in – and the decision is split between the two of them.
With 1,276 students voting in a computerized mock election November 1, Spain Park High School (pop. 1,558) students voted 666 in favor of Mitt Romney and 480 in favor of President Barack Obama. Independents Virgil H. Goode, Jr., Jill Stein and Gary Johnson won 56, 17 and 57 votes, respectively. Students voluntarily registered for the effort, which was conducted through the National Mock Election site. Classes were brought to the media center to vote. AP Macroeconomics/Government teacher Mrs. Cheryl Morrow worked with colleagues and the AP Government Mock Election Team to execute the election - which culminated with a "Patriotic Pep Rally" on November 1.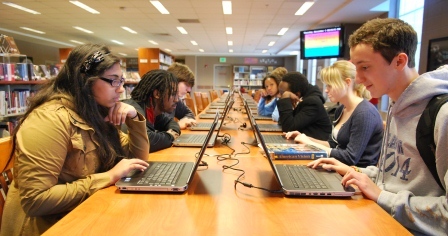 "The primary purpose of having students experience the Mock Election and Patriotic Pep Rally is to make them feel a part of the political process, to encourage them to have a voice in our political system and to know that through their involvement, they can influence the policymakers to be responsive to their policy agenda. You can read about how to get young students involved or you can model it. For the last three presidential elections, SPHS has modeled it for the students and as such, we hope they realize voting is a gift and that our nation should be grateful for the written Constitution that gives us this right to vote and our veterans who sacrificed so much to secure this right," Morrow said.
SPHS has not only participated in past National Mock Elections, but the organziation's own website features the SP mock election program in its curriculum ideas section, Morrow adds.
Hoover High School (pop. 2,660) also conducted a non-mandatory mock election. In contrast to the SPHS class-by-class method, students voluntarily voted during lunch period on paper ballots. The school-wide campaign was executed differently than that of its sister school, hence vastly different numbers. For President of the United States, Hoover High School students voted in favor of incumbent Barack Obama – 149 to Romney's 136. Independents Goode, Stein and Johnson garnered votes of 2, 2 and 31, respectively.
Hoover High School Law Academy Director Mrs. Amy Newell - and the Law Academy students - spearheaded the Hoover High School effort.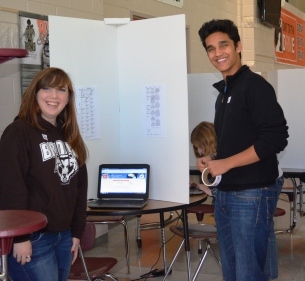 "Our Election 2012 events included a Voter Registration Drive, Mock Debate, 'Know Your Candidates' Drive, and a Mock Election. The goal of these activities was to encourage students to become involved in the political process and become more politically aware while teaching them WHY the political process should be important and how it does affect their lives. I believe that our efforts did have an impact in accomplishing these goals. For the first time since I've been teaching, I saw students at school this year wearing 'I voted' stickers," Newell said.
According to Newell, the school officially registered about 200 seniors to vote in the November 6 general election. Spain Park High School also held a student voter-registration drive for its 18+ population and registered 50 students earlier this semester. Politics has increasingly become a hot topic for students and teachers at both schools over the years, with the onset/influence of social media, enhanced curriculum on the matter and free resources like the National Mock Election website.
"We had several students who took a prearranged absence to work the polls in yesterday's election. Our students saw the impact of the 'spoiler effect' in our school-wide election. Gary Johnson pulled votes from Romney in our election, which allowed Obama to carry the school (mainly through the campaigning efforts of a Libertarian student organization called 'Students for Liberty')," Newell said.
One of the students who got an excused absence to work the polls yesterday is Jordan LaPorta, a senior Law Academy student. According to him, the Hoover High four-stage strategy (voter drive, debates, heavy marketing and vote) opened a lot of students' eyes.
"The thing that excited me the most was the number of people who became more informed and active as the process evolved," LaPorta said. "The amount of student self-motivation and the increased activity on social media is what made me the most satisfied about going through this process."
Spain Park senior Carrie Culwell saw similar engagement at her school
"I think that the election did a great deal in the way of raising student awareness about politics in today's world. We can memorize the succession of presidents until we're blue in the face, but it isn't real to us until we can actively participate in the process - or at least feel that we have," Culwell said.
With Election 2012 now over, students look ahead to political possibilities in 2014 and 2016. Teachers, well, they look ahead to additional "teachable moments".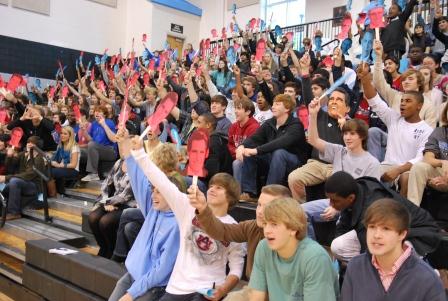 "The mock election proves a best practice for all content areas within teaching. It highlights voting and how each person can influence political leaders to create public policies," Morrow said. "[Through this] students gain an appreciation of our Constitution, the gift of voting and the sacrifice of our Veterans to assure that each of us lives in a free and democratic nation."
See coverage from AL.COM and from WBRC FOX 6 [below].
See results from a national school-based Edmodo vote.
Jason Gaston/HCS Office of Public Relations