10-25-2012 (BMS) - The number "13" isn't the luckiest number, but for Mindy Hicks - it represents great fortune. For 2012-13, she's in her 13th year of teaching at Berry. Thirteen lucky years to be with a quality faculty, quality administrative team and some incredible students.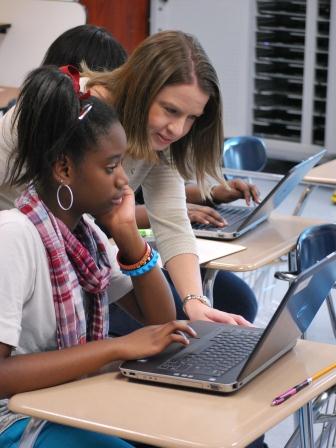 Q: What are some details about your teaching career?
A: This is my 13th year teaching and all of them have been at Berry. Dr. (Kathleen) Wheaton hired me as a baby, barely 22 years old and fresh out of Auburn. The summer after graduating from college I was doing a summer missions program throughout the Southeast and unable to go to interviews. Since I wasn't planning on being able to take a teaching job, my plan was to go straight to graduate school. I was all registered and ready to start classes when Dr. Wheaton called mid-September and asked me to come interview for a teaching job. I interviewed the next day and by the time I got home, she had left a message offering me the position. I accepted and started two days later. It was definitely a whirlwind withdrawing from graduate school, moving to Birmingham and starting my first ever teaching job.
Q: Tell us a little bit about yourself.
A: I grew up in Decatur, Alabama with my parents and two older brothers. I graduated from Auburn in 2000. I got my masters from UAB in 2006. I love going to the beach and the mountains of North Carolina. I have two adorable nieces that I love to spend time with. In my free time I like to read, run, do boot camp, play bunko and hang out with my great group of friends and family.
Q: When did you know you wanted to be a teacher?
A: I think I always knew I wanted to be a teacher. I played school all the time as a little girl and my parents even helped me set up my own classroom, complete with a chalkboard on the wall and a student desk. I became interested in Special Education when I was in high school and worked as a summer volunteer at Decatur High's summer school program for students with disabilities. From there I started working as a peer helper one period a day for my Junior and Senior years. I was lucky that going to college I knew what career path I wanted to pursue.
Q: When people ask about your instructional support role, what do you tell them?
A: Part of my job is to support my students in their general education classes and working with teachers to make curriculum meaningful and appropriate for each student on his or her level. I also teach the 6th and 7th grade co-taught math classes working with general education teachers to help students close in their gaps in math. Another key part of my job is developing IEPs (Individualized Education Plans) for students and meeting with teachers and parents to monitor student's progress towards their IEP goals. The paperwork is probably the most stressful and time consuming part of my job.
Q: What have you learned from your time at Berry Middle School?
A: I'm fortunate to work in such a supportive environment where students are put first. It's a blessing to be able to work with so many teachers I also call friends. In Special Education every day is an adventure and you have to learn to expect and appreciate the unexpected. I've learned that you have never heard it all…every day is something new! I think it's important to remember that the kids are people too and that their problems are real problems and not to trivialize it as just a "middle school" problem because to them it is their world. It's almost important to see the humor in the middle school world. At least once a week I end up laughing until I am in tears. My favorite part of the day is the moment that you see a child master a skill they have been working on and struggling to learn. It's great when the light bulb goes off and they finally get it. Their excitement at that moment is contagious and you can't help but smile!
-Jason Gaston, Public Relations 205.439.1054