10-16-2012 (SPHS) – Patrick Kellogg spent years as an assistant principal before becoming Athletics Director at Spain Park High School this year. The contrast between the two positions have been eye-opening.
"The biggest surprise is just how different the job really is as opposed to being an assistant principal. I thought it would be similar, but it is quite different," Kellogg said.
Different in terms of pace, scope of responsibilities and certainly depth of responsibilities. But Kellogg takes it all in stride, soaking in a position that feels more and more familiar each day.
"I am beginning to feel more at home. The more people I meet and the more relationships I create, the more comfortable I feel."
Overseeing day-to-day operations of a large 6A athletics program may seem daunting, but Kellogg has learned the value of team building, consensus building and of course – time management skills.
"We offer 15 different varsity sports for our student athletes and all of these sports compete on many different levels (9th, JV, and Varsity), so in terms of the scope, we feel like we offer a great variety to our student body," Kellogg said. "If students do not want to participate in sports, SPHS also has a wonderful selection of fine arts."
Ensuring athletics is a good fit for a student is part of Kellogg's responsibility. He, along with Principal Dr. Ken Jarnagin, take the process very seriously.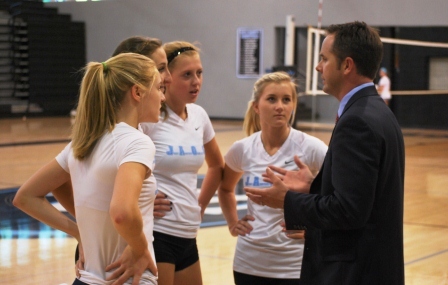 "The term 'Student-Athlete' is a point of focus for us at Spain Park. We are careful to emphasize the academic responsibilities that must be addressed by our students before athletic opportunities are made available. Mr. Kellogg brings to Spain Park a blended background of academic integrity and athletic expertise," Dr. Jarnagin said. "He demonstrates strong educational leadership in working with our entire faculty and also models a positive leadership style with our student-athletes and our coaching staff. We are fortunate to include Mr. Kellogg in our leadership team at Spain Park."
The goal at the end of each day for Patrick Kellogg?
"In its simplest form, I want our students to become better people because of the first class athletic programs we run at SPHS."
Kellogg is a huge fan of golf and college football. When away from Spain Park High School, enjoys time with his wife of six years, Katie, and daughters Charlotte and Audrey. A Shelby County native, Kellogg at­tended Troy University on a track and field scholarship and received a master's degree in English education. Prior to Hoover City Schools, he spent seven years at Pelham High School as a teacher/assistant coach and then later served as assistant principal at Mountain Brook High School.
See more coverage on Patrick Kellogg on al.com