10-06-2012 - (SPHS) - Congrats to Will Haynes and Faith Williams for their outstanding showing the 1st weekend in October at the St. James School Speech and Debate Tournament in Montgomery.
Will is the school's first Lincoln Douglas Debate Finalist in school history. In Lincoln Douglas, the debaters go one-on-one as opposed to Public Forum where they debate in 2 person teams. He debated the resolution: "The United States ought to extend due process rights to non-citizens accused of terrorism." To have achieved a Finalist award as a freshman and in only his 2nd tournament is huge! His current win-loss debate record for the year is 10-2.
Faith came in 6th place in Impromptu Speech. In this event, students draw three quotes, and choose one on which to do a speech. The speech can be from 4-7 minutes in length. The students have no idea what type of quote they may get prior to the tournament. There were over 35 students competing in the pool. She has gone to 2 tournaments and achieved awards at both.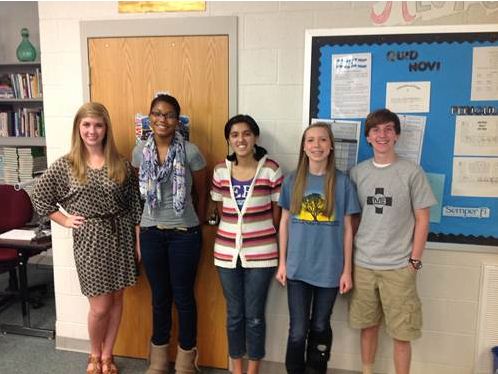 Pictured left-right
Catherine Milling (2nd place, poetry interpretation, Vestavia Hills)
Faith Williams (5th place Original Oratory, Vestavia Hills Tournament/6th place Impromptu, St. James School Tournament)
Tanya Devani (6th place Original Oratory, Vestavia Hills Tournament)
Sarah Sims McGrath (3rd place Original Oratory, Vestavia Hills Tournament)
Will Haynes (3rd Place Lincoln-Douglas Debate, Vestavia Hills Tournament/Lincoln Douglas Debate Finalist, St. James Tournament)