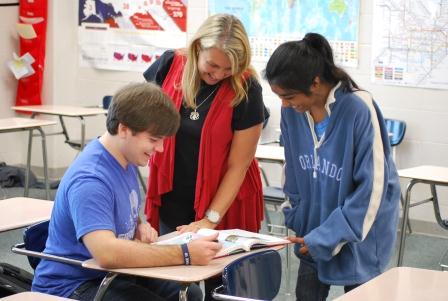 Jill Wallace once had a student give her a box of hair as a Christmas present. She's been to London four times and Disney World more than 25 times. But there's much more to this 16-year veteran of education – who taught at Simmons Middle School before landing at Spain Park High School. The Montgomery-native is a married mother of three sons who enjoys not only travel, but photography, scrapbooking, baking, church and more. But her passion? Teaching.
Q: What subject areas/grades do you teach?
A: I teach 11th grade American history and I teach AP Human Geography to 10th – 12th graders.
Q: How did you become interested in teaching?
A: I actually remember lining up my dolls and teaching them from my chalkboard when I was about four or five years old. My mom says that everything I learned at school, I would then teach to my dolls.
Q: How has your teaching evolved over the years with different state/federal standards, technology, etc.?
A: When I started teaching in 1989, we printed out our tests on the old purple duplicating machines. We also didn't have GOOGLE to look up answers for students so it took a long time to track down the random question that a student might have in class. When I came back to teaching in 2008, it was like a different world to me. There were projectors in the room, Elmos and sound systems. Thank goodness I have had great co-workers to help my technology skills. I think that the technology has helped make my teaching more effective and made my job easier. Although I must say, I still love learning centers complete with glue, scissors and construction paper. I think that I have always used differentiated instruction in that way.
Q: What advice would you give teachers-in-training?
A: Love your students and love what you do!
Q: What's the most unusual thing a student has ever asked you/done in class?
A: Hmm…..I don't know, but I had a student my first year give me a box full of her hair as a Christmas present. (She was in 7th grade- it was really weird-it was awfully hard to say thank you and smile like it wasn't odd!!)
Q: How does this school year compare to others thus far?
A: This school year has started off great. The atmosphere and school spirit at Spain Park is at an all-time high this year. My students are awesome and I love the new iPads that my students have. It is truly going to revolutionize the way we teach and the way the students learn. It is incredible for students to be able to quickly find information and then put that knowledge to use in a classroom discussion. Students seem to be more invested in their actual learning and it is great to be a small part of that.
Q: What's the best part of your day?
A: The best part of my school day is seeing my students in the hall and catching up with them. I always want them to know that I'm here for them and ready to listen when they want to talk. I truly believe that God has blessed me beyond measure with both my school family and my family at home. The best part of my day overall though is hugging my precious husband and boys at the end of the day!
Jason Gaston/Office of Public Relations/205.439.1054