28 Sept (BGIS) – Hugs. That's one thing Kerry Pate now receives from the younger students she serves as the new assistant principal of Brock's Gap Intermediate School. Hugs, she says, didn't come so easily at middle school, where she previously served as counselor.
"[Each day is] busy, busy, busy...very unscheduled. I help, assist, counsel, model and observe great teaching - and just when I need it, [I get] hugs from students, which I didn't get at the middle school," Pate said.
In this new position at BGIS, Pate finds herself in her tenth year with Hoover City Schools. Not all of those years were consecutive. She's held teaching positions at Simmons and Bumpus middle schools – and a year of split counseling between Greystone and Shades Mountain. Amongst these experiences, Pate lived in Connecticut for a while – a journey she admits enhanced her educational experience.
"Being in Connecticut helped me see how schools in different regions of our country function," Pate said. "I also visit schools while staying in Illinois."
Pate's in-laws, who also served
as school administrators during their careers, live in Illinois. Her parents, who live in Mississippi, were both classroom teachers.
"There are many [educational] stories in our families and words of wisdom from both sets," Pate said.
Now, she's taking that knowledge and applying it to her role at Brock's Gap Intermediate School, Hoover's only intermediate school. The hybrid nature of her position serves as the fuel for her passion.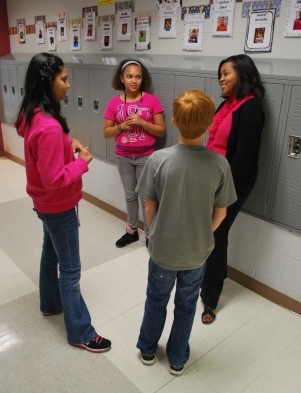 "Counseling is similar to administration because we both work with students, teachers and parents," Pate said. "All the teachers are so happy to come to work each day - you can see their passion for learning and
teaching. Mr. [Scott] Mitchell (principal) is so committed to BGIS and had a very successful first year and a great start to year two."
Mitchell returns the compliment, describing Pate as an integral part of the BGIS team.
"Kerry brings a world of experiences to the assistant principal position. Her background as a counselor at the middle school level coupled with her calm leadership skills makes her the perfect fit for the job," Mitchell said. "She has a great relationship with Bumpus Middle School and that is helpful as we strive to better prepare our students in transitioning from elementary school to middle school. Most helpful for Brock's Gap is Kerry's philosophy of making decisions based on what is of the best interest for our students."
Some of that philosophy Pate employs undoubtedly trickled down from the time-honored wisdom of her parents and in-laws – wisdom she now shares with others.
"Surround yourself with people who are committed to excellence; listen, learn, think. Be reflective in your decision making, know yourself and for what you stand. I believe all children deserve the best from educators. We expect respect from c

Kerry Pate holds degrees in both English Education and School Counseling, as well as Educational Leadership. She and her husband Paul have two children – Collin and Lauren – who are both elementary age.hildren, so we as educators must show them respect as well."

Jason Gaston/HCS Office of Public Relations/205.439.1054