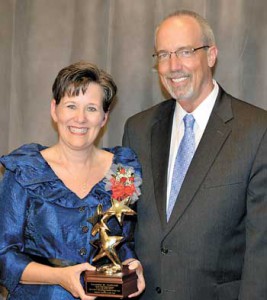 05-22-2012 (SPHS) - Summer will prove no break for Alabama's newly-crowned Teacher of the Year, Mrs. Suzanne Culbreth. Culbreth, a math teacher at Spain Park High School, will make appearances throughout the summer honing her message surrounding keeping good teachers in the classroom. In fact, she's had great practice since winning her title May 9 thanks to a barrage of statewide media interviews.
"The past two weeks have been a whirlwind! Reviewing geometric transformations with my 1st period at 8:15 after being at the FOX 6 studio at 6:45a for an interview was an example of Day 1 after the announcement. It has been an honor to represent teachers and I hope to continue to bring a positive spotlight on all the fabulous things that are going on in classrooms EVERYDAY in Alabama," Culbreth said.
With her new title, Culbreth assumes the role of official spokesperson and representative for teachers in Alabama for the next year.
Culbreth's quality-teaching platform certainly resonates in education circles statewide and energizes her when looking ahead to numerous professional development opportunities and appearances.
"I want to 'spread the word' about Professional Pathways and the opportunities it can afford for both current and future teachers," Culbreth said.
During the summer months, Culbreth will participate in the Alabama Educators Technology Conference (AETC). She'll also be attending an Institute sponsored by the Shoals Chamber of Commerce which provides teachers an opportunity to visit businesses/industry and become aware of career options for their students.

Culbreth was presented the Teacher of the Year title during a May 9 ceremony in Montgomery. Dr. Tommy Bice, State Superintendent of Education, presented the award.
"It is an honor to present the Alabama Teacher of the Year award to Suzanne Culbreth. Her passion for mathematics and ability to bring its relevance to her students is a model of 21st Century STEM education," Bice said. "She is a highly respected teacher leader who, in any conversation I have ever had with her, ALWAYS brings to focus what is right for students. What a role model for current and future teachers to emulate."
Culbreth has taught at Spain Park since 2008 and at Oak Mountain High School from 2002-2008. Culbreth considers her greatest contributions to be as a supporter and encourager of fellow and future teachers.

Mrs. Mandy Fox, enrichment teacher at Greystone Elementary School, was also a Final Four candidate for Alabama Teacher of the Year.
Meghan Everette, a teacher in Mobile County Public School System, is the 2012-2013 Alternate Teacher of the Year. The selection process for Alabama's Teacher of the Year begins at the school system level. Each school system can nominate an elementary and secondary teacher at the district level. One elementary teacher and one secondary teacher are selected from each of the eight state Board of Education districts. A state selection committee selects four teachers from the 16 district finalists to be interviewed for the titles Alabama Teacher of the Year and Alternate Teacher of the Year.
Culbreth and Everette will spend much of the 2012-2013 school year serving as ambassadors for public education and the teaching profession. Culbreth automatically becomes Alabama's nominee for National Teacher of the Year.
[local news release adapted in part from official ALSDE news release. For more information about Alabama's Teacher of the Year program, visit www.alsde.edu or contact Ann Starks, 334-242-9702
or astarks@alsde.edu. Media requests for Mrs. Culbreth please contact J. Gaston/205.439.1054]