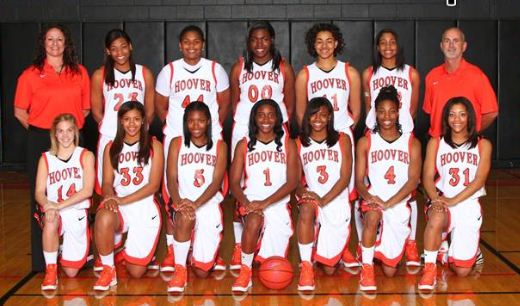 (HHS) - With a score of 44-26, the Hoover Lady Bucs pulled out a win against 6A rival Bob Jones High School (Madison City Schools) in Saturday's 6A Girls Championship Game.
Hoover's smothering defense limited defending state champion Bob Jones to just 12 second-half points and just two field goals in 15 tries as the Bucs claimed their second Class 6A girls championship in the last three seasons with a 44-26 win.
Hoover (31-3) led 15-14 at the half and was up just three points after three quarters before exploding for 21 points in the final frame. Nicole Tanner, the tournament MVP, led the scoring with 12 points and eight rebounds. Breigha Cochran and Kayla Anderson added 10 points each for Coach Donnie Quinn's team.
Bob Jones (36-3) placed no one in double figures. Tierra Jones led with eight and Jasmine Jones, who played only 19 minutes due to foul trouble, had six.
Also named to the All-Tourney team with Tanner were teammates Cochran and Marq'ues Webb of Hoover, Jasmine Jones and Tierra Jones of Bob Jones and Jimecha Banks of Central-Phenix City.
Hoover and Bob Jones have now played four straight years in the finals. Bob Jones won in 2009 and 2011 with Hoover claiming the title in 2010 and 2012. Hoover also won a state crown in 2001.