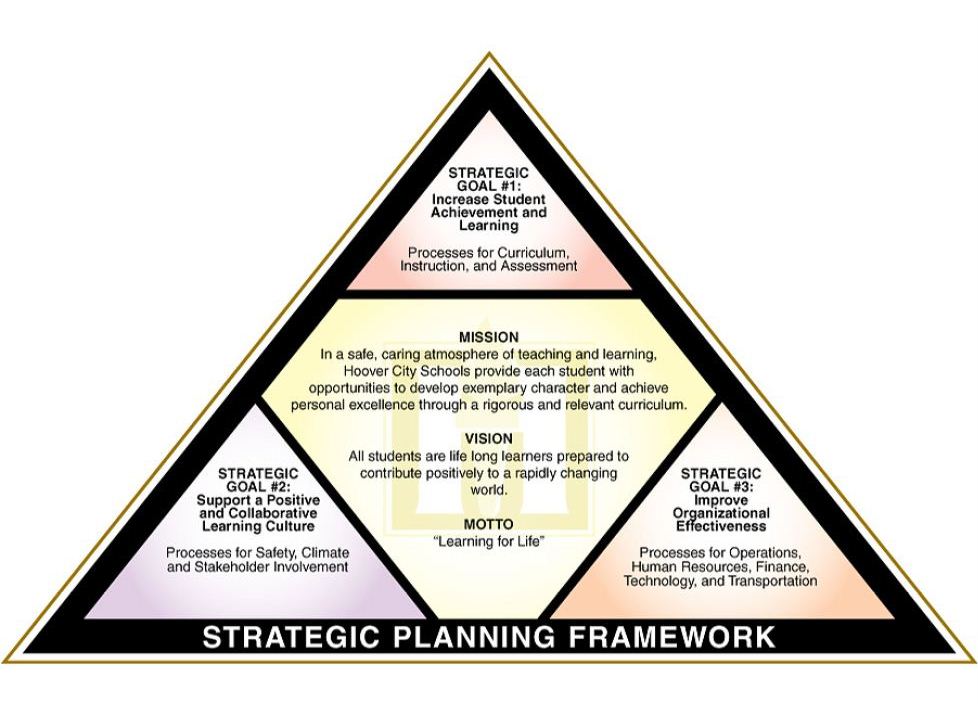 Hoover City Schools embarked on its long-range Strategic Planning Process in 2008. A strategic plan is a tool employed by any organization to ensure that its resources are being applied to the actions that can best help the organization to achieve its mission - an attempt to change perspective by moving above the 'trees' of everyday activities to see the forest of future possibilities. If a school system wants to improve, it needs a plan to do so.
A fluid and continually-updated plan, the HCS Strategic Plan incorporates three comprehensive goals representing key elements necessary to achieve the district's mission: academic achievement; a collaborative learning culture; and organizational efficiency and effectiveness. The goals represent the things we do every day as a school district. As part of the Strategic Planning Process, it is necessary to collect data to determine whether we are accomplishing these goals. Data collection is achieved through 'Balanced Scorecards' - a system developed by the business community which, when adapted for education, tracks essential data sources over time which serve as indicators for system goals.
As students move from teacher to teacher, grade to grade, or building to building within our district, all of the adults helping your child will be focusing their efforts on the same mission. The collective success of the school or district depends on the individual success of each student, and the perspective gained through strategic planning process will help leaders to ensure that all of our children are given the resources and guidance to achieve educational excellence.